Northeast forward Rutigliano makes NCAA commitment
April 25, 2019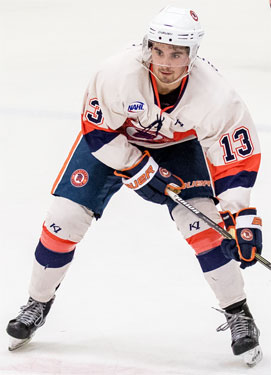 The Northeast Generals of the North American Hockey League (NAHL) are pleased to announce that captain and Top Prospects forward Matt Rutigliano has committed to play NCAA Division III hockey at Skidmore College for the 2019-20 season.
Rutigliano, 21, is coming off a year in which he scored 16 goals and had 15 assists for 31 points. In addition, he added a goal a 3 assists in the Generals first round playoff series vs. the Johnstown Tomahawks. The 5'11/182 lbs. native of Upton, Massachusetts, also added a goal at the 2019 NAHL Top Prospects Tournament for the East Division team in Attleboro.
Overall in his two-year NAHL career, Rutigliano played in 93 career games and had 43 career points.
"The Generals have had only one Captain in our first two years, so Matt had big shoes to fill being only our second Captain. He did that and then some. We had a challenging year with injuries with up to nine guys out at one time and he kept the boys together and focused. It is a real testament to the respect he carries in the locker room that the guys rallied around him and stayed focused all year. He is an amazing captain who leads a huge void we need to fill for next year," said Generals GM Bryan Erikson.
"Matt was a great Captain but also had a great year for us. He scored 16 goals in a year where he battled injuries too numerous to list. Getting cortisone shots so he could play but always being ready to lead the boys. Skidmore is getting a great person but also a great player. He has improved every year and we think he will make a huge impact on their program," said Head Coach Joe Lovell.
Skidmore plays in the NEHC (New England Hockey Conference) which is one of the most competitive Conferences in NCAA D3 Hockey. The conference includes 4 teams in the National D3 Top 15 season ending poll including Babson College (15), Hobart (5), Norwich (2) and UMASS-Boston (12).