Ice Wolves unveil new logo
April 22, 2019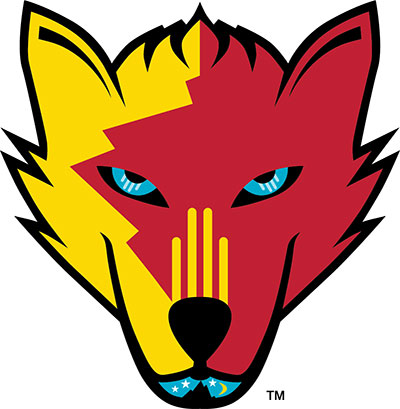 By: Glen Rosales / Albuquerque Journal Staff Writer
New Mexico's North American Hockey League (NAHL) team is starting to take shape as the New Mexico Ice Wolves unveiled their logo with distinctive ties to Albuquerque and the state.
"We didn't want to have a wolf or an ice wolf," said team owner Stan Hubbard. "We we wanted to have our own wolf, we wanted to have a New Mexico ice wolf. We wanted to make it feel like New Mexico. We wanted it so that when it's standing alone on a jersey or a cap, you know what it is."
Designed by graphic artist Jim Bergquist, a man Hubbard had gotten to know through another project, the design was carefully crafted "to make sure it was unique and special and means something," Hubbard said.
The color scheme of yellow and red reflects to state's heritage and mirrors the state flag.
Since turquoise is the state stone, that was used in the eyes, which Hubbard particularly likes, especially with the hint at the Zia symbol
"When we introduced turquoise to the eyes, they became steely, icy," he said.
There are some subtleties to the design, the division between the colors along the face.
"Originally, the division coming down the face was even, but it felt like we were missing something," Hubbard said. "The artist looked at various photographs, and found some views of Sandia Mountain. It's not the view we see, but if you look at the views the north of the mountain, the jagged edges that come down face, it look like the Sandia Mountain."
That same scheme is mirrored in the wolf's mouth, which is framed against New Mexico's crystal clear skies as represented by the moon and stars.