NAHL Weekend Preview: Division Semi-Finals
April 19, 2019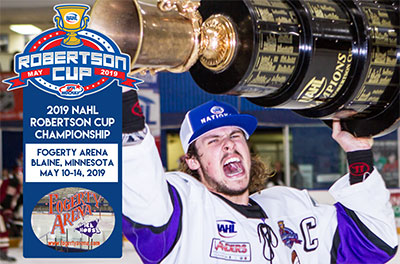 The 2019 NAHL Robertson Cup Playoffs continue in full force this weekend as the Divisional Semi-Finals series come to a close.
The Division Semi-Finals series is a best of five series. The first team to win three games in the series will advance to the Division Finals, which is scheduled to begin April 25th.
The NAHL has set-up various ways to follow the 2019 NAHL Robertson Cup Playoffs:
Playoff Overtime Procedure: During the all Robertson Cup playoff games, if the score is tied after three periods of play the following overtime procedure shall take place. Teams shall return to their dressing room and the ice shall be resurfaced. A fifteen-minute intermission shall take place. A twenty-minute, sudden death, overtime period shall be played with five skaters a side. The game shall terminate upon a goal being scored and the Club scoring declared the winner. If no goal is scored, the same procedure as above shall be repeated until a winner has been determined.
In the Central Division, the Aberdeen Wings and Minot Minotauros both won Games 1 and 2 at home and are now just one game away from advancing to the Central Division Finals. Bismarck and Austin each host Game 3's on Friday down 0-2 in the series.
In the East, the #1 seeded Johnstown Tomahawks have been pushed to the brink by the #4 Northeast Generals as the team's split Games 3 and 4 in Attleboro earlier this week. Game 5 in Saturday in Johnstown with the winner moving onto the East Finals. In the other series, Jamestown holds a 2-0 lead over New Jersey, with the series shifting to Middletown, NJ for Game 3 on Friday night.
In the Midwest Division, the Fairbanks Ice Dogs look to close out their series against the Janesville Jets on Friday night in Game 3, as they hold a 2-0 series lead. The Jets will host Game 3 and Games 4 and 5 if necessary in Janesville this weekend. The other series between the Minnesota Magicians and Springfield Jr. Blues is deadlocked at 1-1 as the series shifts to Springfield for Games 3 and 4.
In the South Division, the Amarillo Bulls avoided elimination from the playoffs thanks to a 4-3 overtime win on Thursday night in Corpus Christi. The IceRays can still win the series on home ice with Game 4 set for Friday night. In the other series, the Shreveport Mudbugs and Lone Star Brahmas are deadlocked at 1-1 with the series shifting to Shreveport on Friday and Saturday for Games 3 and 4.
Central Division Semi-Finals: #1 Aberdeen Wings vs. #4 Austin Bruins (Aberdeen leads series, 2-0)
Game 1: Austin 1 @ Aberdeen 2
Game 2: Austin 2 @ Aberdeen 6
Game 3: Friday, April 19 @ Austin, 7:05pm
Game 4: Saturday, April 20 @ Austin, 7:05pm*
Game 5: Monday, April 22 @ Aberdeen, 7:15pm*
Central Division Semi-Finals: #2 Minot Minotauros vs. #3 Bismarck Bobcats (Minot leads series, 2-0)
Game 1: Bismarck 1 @ Minot 5
Game 2: Bismarck 3 @ Minot 5
Game 3: Friday, April 19 @ Bismarck, 7:15pm
Game 4: Saturday, April 20 @ Bismarck, 7:15pm*
Game 5: Monday, April 22 @ Minot, 7:05pm*
East Division Semi-Finals: #1 Johnstown Tomahawks vs. #4 Northeast Generals (Series tied 2-2)
Game 1: Northeast 1 @ Johnstown 4
Game 2: Northeast 4 @ Johnstown 3
Game 3: Johnstown 3 @ Northeast 1
Game 4: Johnstown 2 @ Northeast 4
Game 5: Saturday, April 20 @ Johnstown, 7:00pm
East Division Semi-Finals: #2 Jamestown Rebels vs. #3 New Jersey Titans (Jamestown leads series, 2-0)
Game 1: New Jersey 3 @ Jamestown 5
Game 2: New Jersey 1 @ Jamestown 4
Game 3: Friday, April 19 @ New Jersey, 7:05pm
Game 4: Saturday, April 20 @ New Jersey, 7:05pm*
Game 5: Monday, April 22 @ Jamestown, 7:00pm*
Midwest Division Semi-Finals: #1 Fairbanks Ice Dogs vs. #4 Janesville Jets (Fairbanks leads series, 2-0)
Game 1: Janesville 0 @ Fairbanks 2
Game 2: Janesville 1 @ Fairbanks 4
Game 3: Friday, April 19 @ Janesville, 7:00pm
Game 4: Saturday, April 20 @ Janesville, 7:00pm*
Game 5: Sunday, April 21 @ Janesville, 3:00pm*
Midwest Division Semi-Finals: #2 Minnesota Magicians vs. #3 Springfield Jr. Blues (Series tied 1-1)
Game 1: Springfield 3 @ MN Magicians 4
Game 2: Springfield 4 @ MN Magicians 3 (OT)
Game 3: Friday, April 19 @ Springfield, 7:05pm
Game 4: Saturday, April 20 @ Springfield, 6:05pm
Game 5: Monday, April 22 @ Minnesota, 7:05pm*
South Division Semi-Finals: #1 Amarillo Bulls vs. #4 Corpus Christi IceRays (Corpus Christi leads series, 2-1)
Game 1: Corpus Christi 6 @ Amarillo 5
Game 2: Corpus Christi 6 @ Amarillo 5 (OT)
Game 3: Amarillo 4 @ Corpus Christi 3 (OT)
Game 4: Friday, April 19 @ Corpus Christi, 7:05pm
Game 5: Monday, April 22 @ Amarillo, 7:05pm*
South Division Semi-Finals: #2 Lone Star Brahmas vs. #3 Shreveport Mudbugs (Series tied 1-1)
Game 1: Shreveport 1 @ Lone Star 5
Game 2: Shreveport 4 @ Lone Star 2
Game 3: Friday, April 19 @ Shreveport, 7:11pm
Game 4: Saturday, April 20 @ Shreveport, 7:11pm
Game 5: Monday, April 22 @ Lone Star, 7:00pm*
*if necessary