Ice Dogs crowned Robertson Cup champions
May 7, 2011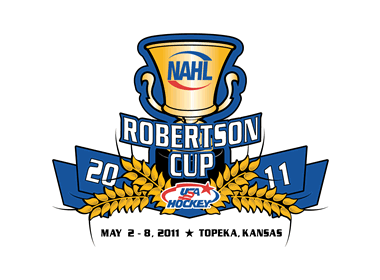 The Fairbanks Ice Dogs were crowned the 2011 Robertson Cup champions after their 4-2 victory over the Michigan Warriors in the championship game of the North American Hockey League's (NAHL) Robertson Cup Championship Tournament on Saturday at the Kansas Expocentre in Topeka, Kan.
View video of the Ice Dogs' championship here.

Forward John Stampohar connected for a goal and two assists, including one on defenseman Pete Spratte's game-winning marker, in the victory, and goaltender Joe Phillippi, who was named the tournament's Most Valuable Player and to the All-Tournament Team, turned aside 23 shots.

View the box score here.

Also named to the All-Tournament Team were forwards Jordan Davis (Topeka RoadRunners), Scott Henegar (Michigan) and Tayler Munson (Fairbanks) and defensemen Derek Hills (Amarillo Bulls) and Kevin Gibson (Michigan).

The Robertson Cup crowns the playoff champion of the NAHL and USA Hockey's Tier II Junior A national champion.

At the conclusion of the three-game round robin, which ran from Tuesday through Thursday, the West Division champion Ice Dogs finished with the most points (six) to earn an automatic berth to the championship game.

The South Division champion Bulls, who finished the round robin with a 2-1 record (four points), and the North Division champion Warriors, who finished at 1-2 (two), played in the semifinal game on Friday (Michigan won, 6-2).

With the fewest points at the conclusion of the round robin (zero), the NAHL's regular-season champion and host RoadRunners were eliminated from the tournament.

The oldest junior hockey trophy in the United States, the Robertson Cup is named in honor of Chuck Robertson, a pioneer of junior hockey in the NAHL and youth hockey in the state of Michigan. Robertson was the owner of the Paddock Pools Saints when they won a record seven straight NAHL championships from 1976-83.
This marks the Ice Dogs' first Robertson Cup championship in the organization's history.

For more information on the tournament, visit RobertsonCup.com.