Generals, Bulls stay alive with playoff wins on Thursday
April 18, 2019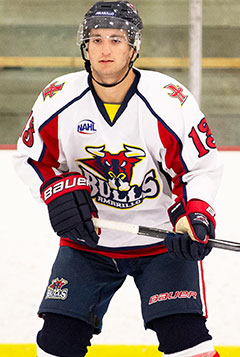 East Division Semi-Finals, Game 4: Johnstown 2 @ Northeast 4 (Series tied 2-2)
– The Northeast Generals forced a 5th and deciding game in their East Division Semi-Finals series against the Johnstown Tomhawks thanks to a 4-2 win on Thursday night in Game 4. The Generals scored the game's first goal when Svet Kuchynski tallied a power play marker to put Northeast up 1-0. Johnstown fired ample shots at David Fessenden, but the netminder closed the first period with his team in front 1-0. Johnstown came out flying in the second period with physicality and more shots on net. The Tomahawks tied the game at 1-1 when Andy Nedeljkovic tapped in a loose puck through the five-hole of Fessenden for his second goal of the post-season. Northeast responded with a shorthanded goal from Liam McCanney to take a 2-1 lead into the second intermission. Just 1:08 into the third frame, Northeast increased its lead to 3-1 after Brady Gaudette capitalized on a Hawks turnover and scored on Carter McPhail. On the power play, Oliver Benwell chipped in a shot from Carson Brière to cut the Generals lead to 3-2. Late pressure from the Tomahawks proved futile as Joe Nagle added an empty-net goal to seal a Game 4 win for Northeast. Fessenden made 34 saves in the win, while Carter McPhail made 34 saves in the loss.
Boxscore
South Division Semi-Finals, Game 3: Amarillo 4 @ Corpus Christi 3 (OT) (Corpus Christi leads series, 2-1)
- Brett Abdelnour scored 7:06 into overtime of Game 3 Thursday as the Amarillo Bulls kept their season alive with a 4-3 win against the Corpus Christi IceRays at American Bank Center. Coltan Wilkie, Anthony Firriolo and Blake Bennett scored for Corpus Christi. Brian George made 42 saves. Abdelnour scored his first of two goals, and three points, on the night just 3:07 into the game to give the Bulls a 1-0 lead. The IceRays responded at 7:38 with Wilkie's shot from the left point, marking the co-captain's first goal in the North American Hockey League. Jake Willets regained the lead for the Bulls prior to the first intermission by connecting on a give-and-go with Abdelnour. Firriolo tied the game with a shot from the left point that pinged off an Amarillo defenseman at 9:14 of the second period. However, the IceRays would head into the second intermission down by a goal as Alex Peterson regained the lead for the visitors at 12:43. Bennett tied the game for the IceRays midway through the third period, receiving a pass from Che Landikusic and firing a shot from the left circle that beat goaltender Jason Grande on the glove side. Abdelnour's game-winner was scored on a blocker side from the left wing off a Logan Jenuwine feed redirected to Abdelnour by Peterson. Grande would end up with 36 saves in the win.
Boxscore