Tomahawks ride timely scoring, goaltending to Game 3 win
April 18, 2019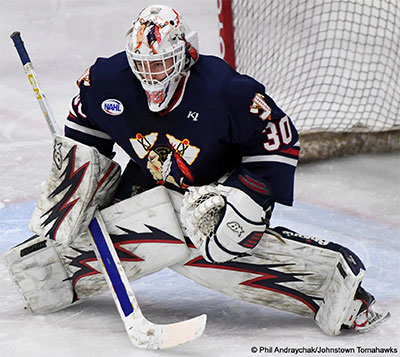 East Division Semi-Finals, Game 3: Johnstown 3 @ Northeast 1 (Johnstown leads series, 2-1) - Goaltender Carter McPhail's 35 saves and timely goals from Oliver Benwell, Cam Hebert and Hunter Toale made the difference as the Johnstown Tomahawks toppled the Northeast Generals 3-1 in Game 3 of the East Division Semis at the New England Sports Village.
Late in the 1st period, Johnstown broke through at 18:11 with a power play goal from Oliver Benwell. Hunter Toale and Carson Brière picked up the assist.
In the 2nd period, the Tomahawks increased their lead to 2-0 when Cam Hebert deposited a pass from Benwell past David Fessenden for the team's second power play goal of the evening. At the 12:32 mark of the second period, the Generals cut the Hawks lead to 21 with a power play goal from Brady Gaudette.
In the 3rd period, the Tomahawks defense went to work, limiting the Generals chances on net but McPhail stood on his head when he had to, making save after save on Northeast forwards. Despite a late penalty, the Tomahawks managed a short-handed, empty-net goal from Toale to put the game out of reach at 3-1.
Northeast goaltender David Fessenden made 40 saves in the loss.
With the win, the Tomahawks have a chance to advance to the East Division Final with a win on Thursday night in Game 4 at New England Sports Village at 7pm.