Titans edge Generals in overtime on final day of season
April 8, 2019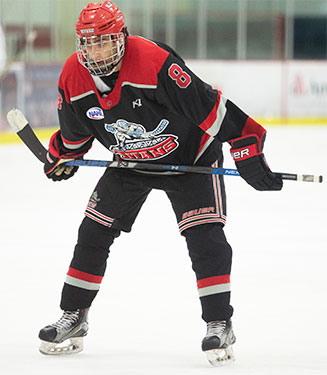 New Jersey 4 @ Northeast 3 (OT) – The 2018-19 NAHL regular season came to a close on Sunday as the New Jersey Titans defeated the Northeast Generals, 4-3 win overtime. Titans forward Ryan Naumovski scored twice and had an assist, including the game-winning goal.
The 1st period was active, with each team scoring twice. Brad Zona scored his first NAHL goal to get the scoring started for the Titans, but that was answered by a goal from Northeast's Svet Kuchynski. Eric Manoukian then put the visitors ahead 2-1 with his 4th goal of the season, but with just :19 seconds remaining in the period, Liam McCanney scored to knot the game for the Generals.
After a scoreless 2nd period, the Titans took a 3-2 lead late in the 3rd period on Naumovski's 15th goal of the season. However, the Generals managed to tie the game with under a minute remaining in regulation as McCanney scored again for his second goal of the game.
In the overtime, the Titans converted on a 4 on 3 power play as Naumovski poked home a loose rebound after a shot from Gavin Gulash for the game-winner.
Titans goalie Dalton Jerzak made 31 saves to pick up the win in his NAHL debut, while Marko Sturma took the loss, making 42 saves.