NAHL alum Lizotte signs NHL contract with LA Kings
April 3, 2019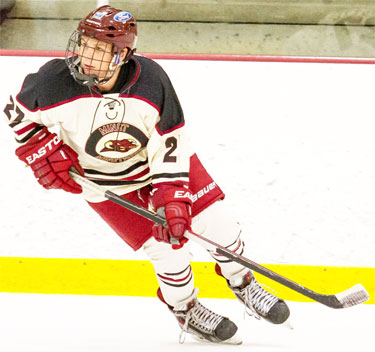 The LA Kings have signed forward and NAHL alum Blake Lizotte to a three-year entry-level contract, Kings Vice President and General Manager Rob Blake announced.
The 21-year-old Lizotte is a 5-9, 175-pound native of Lindstrom, Minnesota, who appeared in 37 games this season with St. Cloud State University (NCAA), posting 42 points (14-28=42), a plus-28 rating and 28 penalty minutes.
He helped lead the Huskies to their second consecutive National Collegiate Hockey Conference (NCHC) regular-season championship and the top overall seed in the NCAA Tournament.
He was named to the NCHC First All-Star Team. Lizotte ranked second on his team in points, tied for first in assists and fourth in goals.
Over the course of his two seasons in St. Cloud he tallied 69 points (22-47=69), a plus-44 rating and 48 penalty minutes in 76 games.
During the 2017-18 campaign he was named to the NCHC All-Rookie Team, NCHC All-Academic Team as well as being named the 2018 NCHC Scholar-Athlete. He was named Rookie of the Year by his teammates (Roland Vandell Award) and they also named him the Most Determined Player (William Radovich Award).
Lizotte played in the NAHL during the 2014-15 season for the Minot Minotauros and won the 2014-15 NAHL Rookie of the Year. Lizotte left Minot as the Tauros all time single season points leader with 52 during the 2014-15 season, a mark that remains third all time in franchise history. His 38 assists that season remains the most by any Tauro in a single season.
His time in Minot not only earned him league Rookie of the Year and NAHL Central Forward of the Year honors but also a commitment to NCAA DI St. Cloud State.
"From the get go we realized he was going to be a special player. He looked like a 12-year-old kid weighing 138 pounds, but he had the heart of a lion. The intention was to keep him until the high school season started but by that point it was evident that he was ready to move on. It was a pleasure to work with him and help him do that," said head coach Marty Murray. "Anytime you hear someone talk about Blake it is the same things we thought about him… his character is off the charts and his work ethic is unmatched."
Despite being four seasons removed from being a Tauro, Lizotte still had warm memories of his time in the Magic City. "Minot was a special place for me, it was pivotal for my success not only as a hockey player but it also helped me grow as a person. The coaching staff, teammates, billets, and whole town of Minot have helped me become who I am! And for that I will forever be grateful for my time there."
The Kings have three games remaining in the regular season, tonight against the Arizona Coyotes, Friday against the Anaheim Ducks, and Saturday against the Vegas Golden Knights.