New Jersey defenseman McCabe makes NCAA commitment
April 3, 2019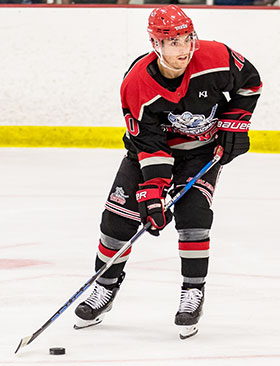 The New Jersey Titans of the North American Hockey League (NAHL) are proud to announce that defenseman
Craig McCabe
has committed to play NCAA Division III hockey at SUNY-Fredonia for the 2019-20 season.
McCabe is a 20-year-old defender from Webster, New York, and played in 32 games with the Titans this season. He recorded two goals and nine assists for 11 points before an injury sidelined him for the remainder of the season. Despite his shortened tenure with the Titans, McCabe was able to prove himself as a formidable blue-liner and managed to land the college commitment.
"It definitely wasn't the way I planned to leave juniors, it was just unfortunate," McCabe said. "That said, playing college hockey has always been a dream of mine. You can finally see all of your hard work and time that you put into reality. I'm excited to finally start school and begin the next chapter."
SUNY Fredonia is an NCAA Division III school located in Fredonia, N.Y. Competing in the SUNY Athletic Conference, the Blue Devils are led by head coach Jeff Meredith.
Titans head coach Craig Doremus spoke about McCabe's commitment and what he brought to the team's defensive corps.
"Obviously he lost a good portion of the season with his injury, but during his time he proved to be a hard-nosed, physical defender was a huge part of our blue line," Doremus said. "Craig fit in extremely well in our locker room and on the ice. He played major minutes for our club in all situations, and we look forward to following his career at Fredonia."
McCabe also spoke about his development as a hockey player during his tenure in the Garden State.
"Craig (Doremus) was very helpful by telling us things without sugar-coating anything. Throughout the 30 or so games, my play grew by always trying to make the right play instead of the easy one," he said. "The whole Titans organization pushed us to be the best we could by the workouts, practices and video. They really want you to succeed and move on to the next level."