Amarillo defenseman Pesek makes NCAA commitment
April 2, 2019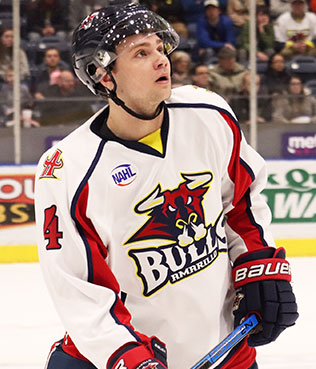 The Amarillo Bulls certainly know a lot about that this year, and that success has helped players to continue to purse their dreams at the next level. Defenseman
John Pesek
is the next member of the 2018-19 Bulls team that will have an opportunity to move on by announcing his NCAA Division III College Commitment to the University of St. Thomas in the MIAC for this fall.
"It is pretty special to be here and be part of this winning organization," Pesek said. "It's a good feeling and very special. I don't think I could have done this without all the teammates I have here. We give ourselves our own success by pushing each other, It's just a good culture here and it's making for good success."
Pesek, a native of Lake Forest, Illinois, has been a physical force defensively for the Bulls with 10 assists in 37 games.
"We are very proud of John for his commitment to continue his academic and athletic career at St. Thomas," said Bulls Head Coach Rocky Russo. "John has been a very valuable asset to our defensive core all season long. His veteran presence is very important to our team. He will be a tremendous addition to St. Thomas both on the ice and in the class room."
Pesek is the second Bulls player to commit to the school joining former defenseman Phil Fromberger. "I think St. Thomas is going to be a great fit for me," Pesek said. "They are a very strong Division III program as far athletically and academically. The school and the area it's in, reminds me of Lake Forest Illinois where I am from. I like that It's close to the cities of Minneapolis and St. Paul, and it's going to be a great location for me."
Pesek said he owes gratitude to a lot of people for helping him get to the next stage of his hockey career. "I want to thank my family, who have supported me throughout my whole hockey career," he said. "Even when it gets hard they are always there for me. Obviously, your coaches and your teammates are your family. You have to thank them because they have your back every single day."
John Pesek joins Logan Jenuwine (Arizona State), Gabriel Seger (Union College), Brett Abdelnour (Army-West Point), Jason Grande (Bentley), Justin Evenson (Army-West Point), Nick Anderson (Colgate), Alex Peterson (Holy Cross), Brenden Datema (Michigan Tech), and Jason Brancheau (Ferris State) as Bulls player on the 2019-20 roster to make their NCAA College Commitments.