NAHL alum duo of Kielly and Sturm sign NHL contracts
April 2, 2019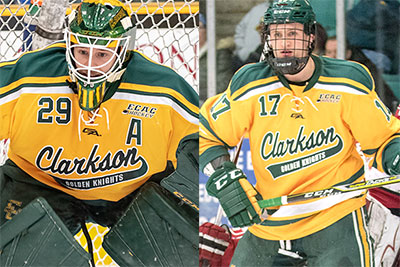 North American Hockey League (NAHL) and Austin Bruins alums Jake Kielly and Nico Sturm, who both played at Clarkson University, have both signed NHL agreements.
An all-star goaltender for Clarkson the past three seasons, Kielly signed a two-year entry-level contract with the Vancouver Canucks. A standout center for Clarkson since the 2016-17 campaign, Sturm signed a one-year, entry-level contract with the Minnesota Wild for the remainder of the 2018-19 season.
"Jake and Nico have been fantastic members of our program the past three years," said Head Coach Casey Jones. "They are tremendous players, competitors and leaders. They excelled in their play and in the classroom, and were outstanding representatives of Clarkson University in the community. Although I am sorry to see them leave, I am excited for their opportunities at the professional level. We wish nothing but the best for Jake and Nico."
Kielly played in the NAHL for the Austin Bruins during the 2014-15 season, where he was named to the Central Division All-Rookie Team that season, helping the Bruins get all the way to the Robertson Cup Championship Game.
The 6-2, 201-pound native of Eden Prairie, Minn., leaves the Clarkson program as the Knights' third all-time winningest goaltender with a career record of 64-37-13, including 16 shutouts since the start of the 2016-17 campaign. A Top 5 Finalist for the Mike Richter Award, Kielly ranked among the best in the NCAA this winter, posting a .929 save percentage and a 1.91 goals against average en route to a 26-11-2 record, including five shutouts. Kielly was named a Second-Team ECAC Hockey All-Star and to the conference's All-Tournament team in Lake Placid on March 23. Kielly also served as a Clarkson assistant captain.
Sturm, who played for the Austin Bruins and Corpus Christi IceRays during his two-year NAHL career from 2013-15, was the leading scorer during the playoffs for the Bruins during their run to the Robertson Cup Championship Game during the 2014-15 season. In 74 career NAHL games with Austin and Corpus Christi, Sturm had 44 points.
The 6-3, 211-pound native of Augsburg, Germany, Strum closed out his Clarkson career with 103 points on 36 goals and 67 assists through 118 games. A Top 10 Hobey Baker Award Finalist, he tallied a team-high 45 points this season, including 31 assists, the most helpers by a Golden Knight in 23 years. Strum was a two-time winner of ECAC Hockey's Best Defensive Forward Award, a First-Team conference all-star this season after gaining Second-Team honors as a sophomore in 2017-18. He was also named to ECAC Hockey' All-Tournament team. A Clarkson co-captain, Sturm posted the best plus/minus in the conference at +23 and was the Knights' leading center at the face off circle winning 57.9% of his draws (392-of-677).