Bulls, Ice Dogs open Robertson Cup with wins
May 3, 2011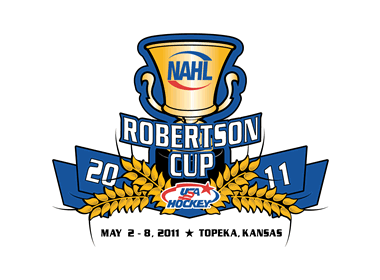 The Amarillo Bulls and Fairbanks Ice Dogs skated to wins on the first day of the three-day round robin portion of the North American Hockey League's (NAHL) Robertson Cup Championship Tournament on Tuesday at the Kansas Expocentre in Topeka, Kan.

Forward Zach Vierling's overtime goal lifted the Ice Dogs to a 4-3 victory over the NAHL's regular-season champion and host Topeka RoadRunners. Forwards Jared Linnell, Tayler Munson and Alec Hajdukovich scored in regulation for Fairbanks, and goaltender Joe Phillippi turned aside 47 shots.

View the box score here.

In the first game of the tournament, the South Division champion Bulls defeated the North Division champion Michigan Warriors, 5-2. Amarillo forward Matt Johnson connected for a goal and an assist in the victory, and defenseman Derek Hills notched the game-winning marker. Forwards Michael Erickson and Dan Sherer and defenseman Luke Jenkins scored the other Bulls goals. Between the pipes, Nikifor Szczerba stopped 24 shots.

View the box score here.

On Day 2 of the round robin on Wednesday, the Ice Dogs will take on the Warriors at 4:05 p.m. (CST) and the RoadRunners will face off against the Bulls (7:35 p.m.).

At the conclusion of the round robin, which will continue through Thursday, the team with the most points will earn an automatic berth to the championship game, which will be played on Saturday. The second- and third-place teams will play in the semifinal game on Friday, and the fourth-place team (fewest points) will be eliminated from the tournament.

The Robertson Cup crowns the playoff champion of the NAHL and USA Hockey's Tier II national champion.

View the complete Robertson Cup Championship Tournament schedule here.

All Robertson Cup Championship Tournament games can be viewed live over the Internet through FASTHockey.com.

For more information on the tournament, visit RobertsonCup.com.