Wings with fourth straight
March 29, 2019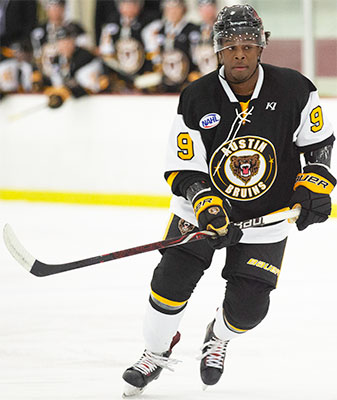 Aberdeen 2 @ Bismarck 1 – Matt Vernon made 26 saves and won his 38th game of the year as the Wings picked up a 2-1 road win in Bismarck. The 38 wins is the most by an NAHL goalie since the 2006-07 NAHL season when Ryan Zapolski (Mahoning Valley) posted 42 wins. After a scoreless 1st period, the Bobcats got on the board first midway through the 2nd period thanks to a goal from Tim Piechowski who scored his third goal in as many games. That was answered just over three minutes later with a goal from Aberdeen's Riley Murphy. Late in the 3rd period Adam Pitters would net the game-winner. John Roberts took the loss in goal for the Bobcats, making 22 saves.
Austin 4 @ Brookings 3 (SO) – A 20-man combined shootout was needed as the Austin Bruins came from behind to defeat the Brookings Blizzard in a shootout by a 4-3 score. Dante Sheriff scored twice, including the game-tying goal in the final minute of the 3rd period. Brookings jumped out to a 2-0 lead with goals from Carter Krogman and Johnny Johnson. Austin cut the lead down to 2-1 thanks to a goal from Ben Almquist, but Brookings went back up by two goals with a tally from Luke Aquaro. Sheriff then scored two goals to tie the game at 3-3. Kyle Herbster scored the shootout-winner for Austin. Kyle McClellan made 26 saves in the win and stopped 9 of 10 shooters in the shootout. Brennan Boynton made 22 saves in the loss.
MN Magicians 4 @ Janesville 2 – Four different Magicians players scored and goalie Ethan Haider made 23 saves as the Jets extended their winning streak to four straight games with a 4-2 win in Janesville on Thursday night. Minnnesota jumped out to a 2-0 lead with goals from Chris Konin and Jackson Jutting. A shorthanded goal from Justin Engelkes for the Jets cut the lead down to 2-1 after two periods. In the 3rd period, the Magicians got two more goals from Owen Arfstrom and Jack Jensen to secure the win. Matt Hanewall had the other goal for the Jets. Cole Brady made 23 saves in the loss for Janesville.
Kenai River 1 @ Fairbanks 3 – The Ice Dogs moved to the cusp of clinching the Midwest Division title thanks to a 3-1 home win over Kenai River on Thursday. Brendan MacLaren had three points in the win and Mattias Sholl made 19 saves. Fairbanks jumped out to a 2-0 lead early in the 2nd period thanks to goals from Matt Koethe and John Stampohar. The Brown Bears cut the lead down to 2-1 with a 2nd period goal from Lukass Sicevs, but MacLaren would put the game on ice with a 3rd period goal. Brown Bears goalie Gavin Enright made 37 saves in the loss.