NAHL Alumni Update: NCAA Tournament Preview
March 27, 2019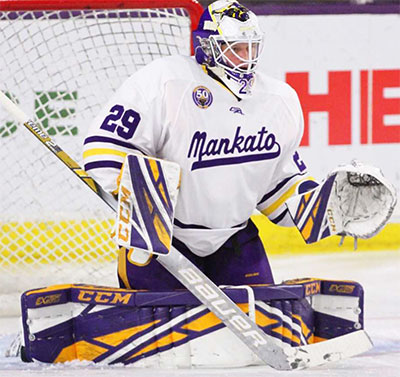 The NCAA Division I Men's Ice Hockey Committee has selected the 16 teams that will be participating in the 2019 NCAA Division I Men's Ice Hockey Championship, which begins this weekend.
In total, 127 NAHL alumni are on the 16 rosters of teams taking part in the event, and all 16 teams have at least three NAHL alumni. In case you have a rooting interest of teams with NAHL alumni, here is a breakdown:
American International: 18
Minnesota State: 14
Bowling Green: 11
Minnesota-Duluth: 11
Arizona State: 9
Clarkson: 8
Denver: 8
Ohio State: 8
St. Cloud State: 8
Massachusetts: 7
Northeastern: 6
Quinnipiac: 6
Providence: 4
Cornell: 3
Harvard: 3
Notre Dame: 3*
*Notre Dame head coach Jeff Jackson is both a player and coach alum of the NAHL
The championship playoff format involves four predetermined regional sites with four teams assigned to each site. The regional winners advance to the Men's Frozen Four, April 11 and 13 at the KeyBank Center in Buffalo, New York. The entire championship uses a single-elimination format. Automatic qualification privileges are granted to the postseason champions of the six conferences. The remainder of the field is selected at large.
The only other junior league in North America with more alumni playing in the NCAA Division I Championship Tournament than the NAHL is the USHL. In addition, 32% of freshmen playing NCAA Division I hockey are alumni of the NAHL.
-----------------
In other NCAA Hockey news, the University of Wisconsin-Stevens Point (29-0-2) became the first Division III men's program to complete a perfect season and won the sixth championship in its history. The Pointers also won the title in 1989, '90, '91, '93 and 2016, and captured the 1990 crown on their home ice as well.
In total, 13 NAHL alumni are on the UW-Stevens Point roster
NAHL alum Steven Quagliata has scored overtime goals before in his hockey career but none bigger than the one he registered Saturday night. The sophomore defenseman wristed a shot into the upper right corner at the 15 minute, 13 second mark of the extra period to lift Wisconsin-Stevens Point to a 3-2 win over Norwich in the NCAA Division III men's hockey national title game at K.B. Willett Arena.
"I never thought it would have been me but I got my opportunity and I ended up finding the corner," Quagliata said. "An overtime goal for a defenseman is not likely and that's one that I will remember for the rest of my life."
"To be honest the whole undefeated thing was just the carrot on top. It's nothing that we talked about or cared about," said UWSP coach Tyler Krueger, who is a former NAHL player, a former Pointers player and an assistant on the 2016 team "We just wanted to win (the title) here in front of our fans. This game and weekend will go down in this town for years. It's something that people will be talking about 20 years for now. They talk about the 1991 one still."
-------------------
Minnesota State freshman and NAHL alum Dryden McKay (Corpus Christi IceRays/Springfield Jr. Blues) has been named College Hockey News' 2018-19 Rookie of the Year. McKay is 24-6-2 with a 1.66 goals against average and .931 save percentage. The goals against average is best in the country among freshman, and second-best overall, behind only Quinnipiac junior Andrew Shortridge. The save percentage is tied for fifth nationally, though the only goalie ahead of him with more minutes played is Northeastern's Cayden Primeau. McKay has averaged allowing just one goal per game over his last 11 outings, which includes five WCHA playoff games. In the last one, his team fell behind, 2-0, to Bowling Green, before staging a late rally to win in overtime and capture the WCHA Tournament championship.