Goalies shine in lone NAHL game on Sunday
March 24, 2019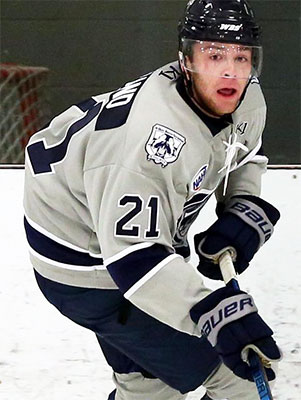 Northeast 0 @ WBS Knights 1 (SO) - A combined 73 shots on net resulted in no goals through 65 minutes. Zach Stejskal and David Fessenden dueled relentlessly until Jordan Strand converted on a game-winning shootout goal in the final round, helping the Knights take a 1-0 decision over the Northeast Generals Sunday at Revolution Ice Centre.
With four games left in the season, Wilkes-Barre trails Northeast by three points for the final playoff spot in the east. Johnstown, Jamestown, and New Jersey have already secured playoff berths, leaving the Knights and Generals to fight for the final spot.
Try as they might, both teams were unable to solve the goaltenders before the end of regulation. Right as three-on-three overtime began, Generals' leading scorer Louis Boudon cut through the middle for a breakaway on Stejskal, but missed the net. That stood out as the scoring chance of overtime, but with nothing going in, a shootout was necessary.
Jake Fuss and Adrian Danchenko were denied, leaving defenseman Jordan Strand as the last hope in round three. Strand cut left and roofed a shot over the shoulder of Fessenden to have his team surround him in celebration as the Knights managed to salvage their three game weekend with the Generals and keep playoff hopes alive.
Stejskal and Fessenden both earned shutouts. Fessenden, who made 34 saves, earned his second shutout of the season, while Stejskal, who made 39 saves, is up to six on the year.