Pilots and Ice Dogs gets wins on Thursday night
March 22, 2019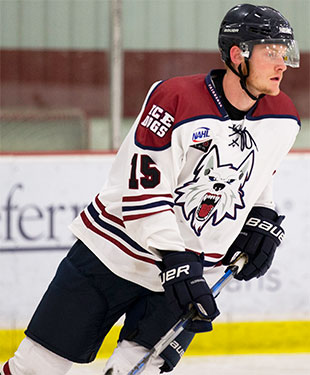 Topeka 2 @ Odessa 0
– Pilots goaltender McLean Dorr was a rock in net on Thursday night for the Topeka Pilots as he stopped all 41 shots he faced as Topeka earned timely goals in the first and third periods, winning 2-0 over the Odessa Jackalopes at the Ector County Coliseum. After nearly a period of scoreless hockey, Pilots forward Christian Thomas broke through with his third goal of the season at the 17:33 mark of the first. Leading 1-0 after one, the two teams combined for 34 shots in the middle period. Neither Topeka nor Odessa could find the back of the net, as Alex Camarre and Dorr played spoilers in between the pipes, looking to keep their respective clubs in the contest. Topeka Austin McCarthy doubled the Pilots' lead at 5:34 of the third period. McCarthy's goal came after a breakout rush from defenseman Max Finner. Camarre would end up making 36 savesin the loss.
Boxscore
Fairbanks 5 @ Kenai River 2
- The Fairbanks Ice Dogs defeated the Kenai River Brown Bears 5-2 on Thursday in North American Hockey League play at the Soldotna Regional Sports Complex. The Ice Dogs started fast Thursday with goals by Luke Ciolli, Jax Murray and Brenden MacLaren for a 3-0 lead after one period. The Bears cut it to 3-2 in the second. Markuss Komuls scored on assists from Andy Walker and Eagle River's Zach Krajnik. Michael Spethmann scored on an assist from Walker. But Fairbanks won the third period 2-0 to close out the game thanks to two goals from Luke Mobley. Mattias Sholl would pick up the win in goal for Fairbanks. Sholl has now won his last 10 straight starts. Gavin Enright suffered the loss in goal for the Brown Bears.
Boxscore