March 20, 2019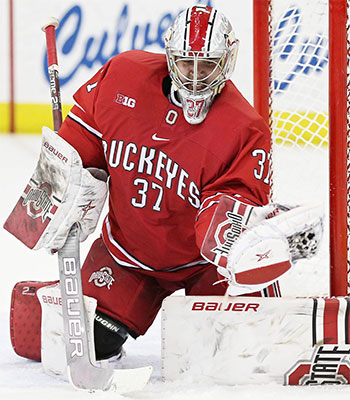 Atlantic Hockey 1st Team Defenseman: Brennan Kapcheck, AIC (Aston Rebels)
Kapcheck followed up last year's AHA Rookie of the Year campaign with another solid season, anchoring the blue-line of the top-seeded Yellow Jackets. His 19 assists is second on the team and his plus-8 rating is tied for second. He and Christensen are two main parts of the highest scoring offense in the league at 3.29 goals per game, and in program history, at 112 goals total.
Atlantic Hockey Top Defensive Forward: Drew Callin, Bentley (Janesville Jets)
B1G Goaltender of the Year: Tommy Nappier, Ohio State (Springfield Jr. Blues)
Nappier is third nationally in save percentage (.934) this year, ranking seventh in goals-against average (1.91), and standing fourth in winning percentage (.750; 12-3-3). In Big Ten games, Nappier had a conference best 1.82 goals-against average and .936 save percentage, leading the league in winning percentage (.750; 8-2-2). His goals-against average is the second-lowest in Big Ten history, with his save percentage ranking fourth all-time. He is a semifinalist for the 2019 Mike Richter Award, given to the best goalie in NCAA hockey.
ECAC Goalie of the Year, All-ECAC 1st Team: Andrew Shortridge, Quinnipiac (Aberdeen Wings)
Quinnipiac men's ice hockey junior goaltender Andrew Shortridge (Anchorage, Alaska) has been named the ECAC Hockey Ken Dryden Goaltender of the Year. Throughout the entire 2018-19 season, Shortridge has not only been among the best goaltenders in ECAC Hockey but the entire nation. He leads the country with a 1.51 GAA and .941 save percentage while his .720 winning percentage is seventh in the nation. Shortridge also has 17 wins and four shutouts on the season. In addition to his superb goaltending, Shortridge also led the nation in goalie points with three assists. In league play, Shortridge was just as good as he led the league with a 1.47 GAA, .938 save percentage and .706 winning percentage while his 11 wins were second and his three shutouts were tied for the third most. Shortridge's 1.51 GAA and .941 save percentage are both set to become single-season program records.
All-ECAC 1st Team and ECAC Best Defensive Forward: Nico Sturm, Clarkson (Austin Bruins)
This is the second consecutive season that Sturm has been honored as the Best Defensive Forward, after also receiving this award in 2017-18. The junior has been extremely effective at both ends of the ice, registering 41 regular-season points for the Golden Knights (13G, 28A), while leading the league in plus/minus with a +23 mark. Sturm's play this season has garnered recognition from across the hockey world, as he was recently named the number one un-drafted college hockey prospect by ESPN. He's played a huge part in Clarkson's success this season, as the Golden Knights finished the regular-season in third place in the ECAC Hockey standings.
ECAC Best Defensive Defenseman: Matt Nuttle, Cornell (Wenatchee Wild)
Nuttle led a Cornell defensive unit that once again was one of the best defenses in the nation this season, allowing just two goals per-game. The Big Red surrendered two or less goals in 19 of their 29 regular-season contests, limiting opponents to an average of less than 25 shots per-game. In his senior season, Nuttle rounded out the year Sith 51 blocked shots, and demonstrated his efficiency with a +19 plus/minus rating. He also chipped in a bit on the offensive end of the ice, scoring three goals and dishing out 14 assists.
All-NCHC 1st Team: Patrick Newell, St. Cloud State (Fairbanks Ice Dogs)
Newell captured the NCHC scoring title, leading the conference with both 13 goals and 28 points in 24 conference games, while his 15 assists tied for fourth in the conference. A two-time NCHC Offensive Player of the Week and February Player of the Month, Newell posted an NCHC-best +18 plus/minus in conference play and fired 75 shots on goal, which was third in the conference.
All-NCHC 1st Team: Blake Lizotte, St. Cloud State (Minot Minotauros)
Lizotte finished in a tie for second in NCHC scoring with 25 points, while his 11 goals in 24 games tied for third. He logged a +13 plus/minus and was the top faceoff man in NCHC play, winning 63.7 percent of his draws (318-181).
All-NCHC 1st Team: Hunter Shepard, Minnesota-Duluth (Bismarck Bobcats)
Shepard led the NCHC with both a 1.92 goals-against average and five shutouts, while posting a 14-9-1 record with a .914 save percentage, as he was one of only three goalies to start all 24 conference games this season. Shepard was a two-time NCHC Goalie of the Month and three-time Goalie of the Week.
WCHA Offensive Player of the Year: Troy Loggins, Northern Michigan (Wenatchee Wild)
Northern Michigan senior Troy Loggins was the WCHA scoring champion this season with 32 points on a league-high 20 goals and 12 assists in 28 league games. He finished his final season with the Wildcats with 40 points on 23 goals and 17 assists in 39 contests as the Wildcats finished second in the WCHA and reached the semifinals of the league's postseason playoffs. Loggins led the WCHA and shared the national lead in power play goals (10) and shorthanded goals (three) this season while his 23 goals scored tied for second nationally. He led the country in shots on goal with 155. The Huntington Beach, Calif., native was a two-time First Team All-WCHA selection during his career in Marquette (2018, 2019) and this season was a two-time WCHA Forward of the Week honoree.
WCHA Goaltender of the Year: Atte Tolvanen, Northern Michigan (Minot/MN Magicians)
A four-year All-League honoree, Atte Tolvanen has earned Goaltender of the Year and First Team All-WCHA honors for the second year in a row after leading the WCHA in wins (18), shutouts (five), saves (699) and shots faced (754) in league play this season. The Vihti, Finland, native ended his stellar Wildcat career as NMU's all-time leader in shutouts (13), games played (137) and saves (3,564). He also holds the school single-game record for saves with 58. Tolvanen also earned national notoriety in November when he became just the fourth goaltender in NCAA history to score a goal off of his own shot when he fired the puck the length of the ice to score on an empty net in a 5-3 win over Michigan Tech.
WCHA Rookie of the Year: Cooper Zech, Ferris State (Odessa Jackalopes)
Ferris State's Cooper Zech made an immediate impact on the Bulldogs and the WCHA in his debut season in Big Rapids. The South Lyon, Mich., native led all WCHA rookies in scoring in league games (24 points) and all games (28 points) this season and became the first freshman to lead Ferris State in scoring in 31 years this season. His 28 points and 0.78 points per game led all freshmen blueliners in the NCAA in 2018-19 and his point total ranked fifth nationally among all NCAA rookies. The WCHA Preseason Rookie of the Year, he is just the second Bulldog to earn preseason and postseason newcomer honors in program history. Zech earned WCHA Rookie of the Month honors in December and was a three-time Rookie of the Week honoree this year. On March 12, Zech became the fourth member of Ferris State's 2018-19 team to begin his professional hockey career when he inked a deal with the Providence Bruins.
The Robert Morris University men's hockey team is bound for Buffalo after Justin Addamo's (Lone Star Brahmas) overtime goal delivered a 3-2 sudden victory over host Bentley in Game 3 of an Atlantic Hockey quarterfinal series Sunday evening. "It's an amazing feeling," said Addamo, whose eighth NCAA goal was also his first in five playoff games. "I poked the puck away and I just shot it between his legs. It happened really quick. It's been a couple weeks since our coach has been telling us to shoot all the time and not pass up shots. I just took it and it went in."