Briere leads Tomahawks to 45th win of the season
March 18, 2019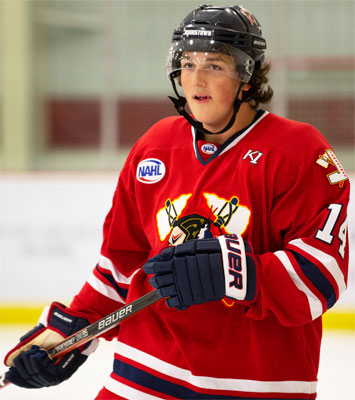 Johnstown 5 @ Northeast 2 - Carson Brière and Colin Price scored two goals apiece and Carter McPhail made 29 saves en route to a 5-2 Johnstown Tomahawks win over the Northeast Generals in the lone NAHL game on Sunday at New England Sports Village.
Persistence paid off in the 1st period for Johnstown as Tomahawks forward Colin Price scored his 12th goal of the season after a Northeast offensive zone turnover. Before the period closed, the Tomahawks increased the score to 2-0 when Mitch Hale shot the puck blocker side past Fessenden for his 12th of the season. Carson Brière and Pavel Kharin picked up helpers.
The Generals replaced Fessenden with backup goalie Marko Sturma to start the second period. Just eight minutes into the middle frame, Northeast cut the Tomahawks lead to 2-1 when Ryan Rowland's shot from the point solved Tomahawks goalie Carter McPhail. However, just 17 seconds later, Carson Brière became the first Tomahawks player to score 40 goals when his shot beat Sturma five-hole for a 3-1 Tomahawks lead. Andrew Murphy assisted on the goal. Brière scored his 41st goal at 13:01 with his 27th power play goal. The Tomahawks gained a 4-1 lead on the unassisted marker. Northeast responded with a power play goal of its own when Cam Gaudette chipped the puck past McPhail to make it 4-2.
Price put the Tomahawks in front 5-2 after slapping a pass from Chad Merrell past the glove hand of Sturma for his second goal of the afternoon and 13th of the season.
McPhail would make 31 saves in the 5-2 win for the Tomahawks, which is the netminder's 27th of the season. Fessenden made 9 saves in the loss and Sturma made 19 saves in the loss as well.