Alaska teams ride goalies to wins on Thursday
March 15, 2019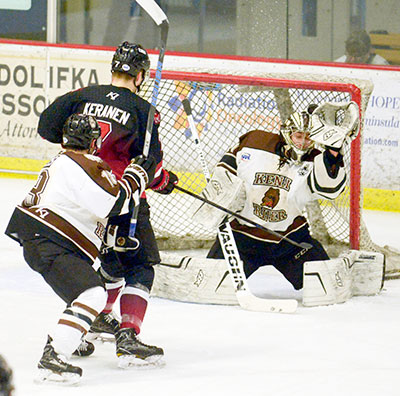 Janesville 0 @ Fairbanks 3
– It what was a goaltender's duel for much of the game, the Fairbanks Ice Dogs got two goals in the 3rd period to break a close game open in a 3-0 win on Thursday night in Fairbanks. Ice Dogs goalie Mattias Sholl made 34 saves for his second straight shutout. Fairbanks got on the board first with a goal from Tyler Deweese midway through the 1st period. Later in the 3rd period, Laker Aldridge and Luke Ciolli added goals to secure the win. Jets goalie Cole Brady played well in the loss, making a season-high 50 saves.
Boxscore
MN Magicians 1 @ Kenai River 3
– Gavin Enright made a season-high 48 saves to lead the Kenai River Brown Bears to a 3-1 home win over the Magicians on Thursday night. The Brown Bears took a 1-0 lead thanks to a 1st period goal from Zach Krajnik. Midway through the 2nd period, the Brown Bears went up 2-0 as Andy Walker scored his 11th goal of the season. The Magicians got on the board later in the period thanks to their lone goal from John Keranen. Michael Spethmann added a late empty-net goal in the 3rd period to secure the 3-1 win. Magicians goalie Ethan Haider played well in the loss, making 31 saves on 33 shots.
Boxscore