March 13, 2019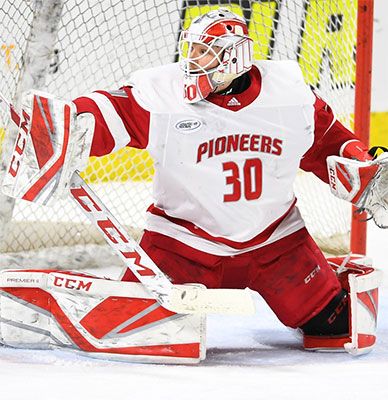 NHL 2nd Star of the Week: Ben Bishop, Dallas Stars (Texas Tornado)
Bishop stopped all 59 shots he faced over two appearances to help the Stars earn two wins and maintain the first Wild Card position in the Western Conference. Bishop, who registered consecutive shutouts for the first time in his NHL career (362 GP), made 28 saves in a 1-0 triumph over the New York Rangers March 5 and 31 stops in a 4-0 victory against the Colorado Avalanche March 7. With another shutout on Tuesday night, the 32-year-old Denver native has compiled a 23-14-2 record in 40 total contests this season, ranking first in the League in save percentage (.932), and second in the League in goals-against average (2.08) and shutouts (6). Bishop put himself in the Dallas Stars history books by becoming just the third goaltender in Stars/North Stars franchise history to record shutouts in three straight appearances, joining Cesare Maniago (1967) and Ed Belfour (2000). The Stars netminder hasn't allowed a goal since the second period of the March 2 game at St. Louis. His shutout streak is at 204:20, second-longest in franchise history to Belfour's 219:26 set in 2000.
Atlantic Hockey All-Rookie Team Forward: Ludwig Stenlund, Niagara (Odessa Jackalopes)
Stenlund has played in all 37 games so far and is having a terrific season regardless of class, as his 19 regular season goals tied for the overall league-lead. He enters the quarterfinal round with 20 markers, ten of which have come on the power play, tied for the most in all of Division I. His 36 points is four more than any other freshman in the nation and just two behind the team-lead.
Atlantic Hockey All-Rookie Team Goaltender: Josh Benson, Sacred Heart (Fairbanks Ice Dogs)
Benson has played in 22 of the Pioneers' games this season, and his 2.37 goals against average is second in the conference. He also owns a 12-7-2 record for a .619 winning percentage, the best in the league by a wide margin. He started 19 consecutive games from November 30 to February 16, winning 11 of them, and solidified the number one duties for the fourth-seeded team in the conference tournament.
Penn State freshman defenseman Paul DeNaples (Wilkes-Barre/Scranton Knights) has been named a finalist for the 2018-19 Big Ten Defensive Player of the Year. In his freshman campaign, DeNaples has impressed with his low-risk, reliable defense which has led him to a national best plus-31 rating. The rookie has been on the ice for 58 of Penn State's single-season record 170 goals this season, 34 percent. DeNaples also leads the Big Ten with a plus-15 rating in 24 conference games this season. Overall, the freshman has scored twice while adding 12 assists for 14 points while only taking three minor penalties all season. At plus-31, DeNaples is also just shy of Erik Autio's '18 Penn State single-season plus/minus record of plus-33.
Ohio State sophomore Tommy Nappier (Springfield Jr. Blues) has been named a finalist for the 2018-19 Big Ten Goaltender of the Year. Nappier, a St. Louis native, is second nationally in save percentage (.937) this year, ranking fourth in goals-against average (1.78), and standing third in winning percentage (.794; 12-2-3). In Big Ten games, Nappier had a conference best 1.82 goals-against average and .936 save percentage, leading the league in winning percentage (.750; 8-2-2). His goals-against average is the second-lowest in Big Ten history, with his save percentage ranking fourth all-time. Nappier was on the 2018 Big Ten All-Freshman Team.
ECAC Goaltender of the Week: Darion Hanson, Union (Aston Rebels/Lone Star Brahmas)
Darion Hanson has been named ECAC Goalie of the Week after leading the Dutchmen to a sweep of Colgate in the first round of the ECAC Hockey Tournament. The sophomore saw 54 shots over the two game set, stopping 53 of them for a .981 save percentage and 0.50 goals-against average.
Clarkson forward Nico Sturm (Austin Bruins) has been named a finalist for the ECA Best Defensive Forward. Clarkson's success this season has been in large part due to Sturm, who's been extremely efficient throughout the 2018-19 campaign. The junior led the league in +/- this season, posting a +23 mark, including +16 in league play. He paced the Golden Knights with 41 points (13G, 28A), while blocking 31 shots.
NCHC Defenseman of the Week: Corey Schueneman, Western Michigan (Michigan Warriors)
Schueneman led the Broncos at both ends of the ice, helping limit rival Miami to only two goals in a sweep, one each night, while chipping in five points from the blue line and setting up the game-winning goal both nights. In Friday's 5-1 win, the team captain scored the game's first goal, only his second of the season, while he assisted on the second goal, which served as the game-winner on the power play. He was also +3 in Friday's victory and helped kill all six MU power plays. Saturday, Schueneman tied a career high with three assists, with two coming on the power play, including the game-winner, while he had the lone helper on WMU's third goal in a 6-1 win. He was +2 on Saturday. Schueneman ended the series with a goal, four assists, a +5 plus/minus and three shots on goal. He also blocked two shots on the weekend, while anchoring a penalty kill that finished 9-for-9 against Miami and played on a power play that was 4-for-10.
WCHA Goaltender of the Week: Nick Kossoff, Lake Superior State (Keystone Ice Miners)
Lake Superior State's Nick Kossoff led all WCHA netminders in saves (68) and save percentage (.958), while tying for the WCHA lead in wins (two) and win percentage (1.000) to help Lake Superior State to a sweep of Bemidji State in the Quarterfinals of the WCHA Playoffs. In addition, his 1.50 goals against average ranked second in the conference. Kossoff began the weekend with 29 saves and a .935 save percentage as the Lakers defeated the Beavers 4-2 on Friday. He then tallied 39 saves and a .975 save percentage as the Lakers won 3-1 on Saturday night to earn their first-ever WCHA Playoffs series win. In Saturday's series-clinching victory, 17 of Kossoff's saves came in the third period, while the Lakers scored twice in the final period to win 3-1. This is Kossoff's second Goaltender of the Week award this season.
WCHA Rookie of the Week: Griffin Loughran, Northern Michigan (Corpus Christi IceRays)
Northern Michigan's Griffin Loughran notched three points for the Wildcats in its opening WCHA Quarterfinal game on Friday night. He scored a power play goal in the third period to narrow the game to 4-3. He also picked up assists on the first NMU goal as well as the overtime game-winning goal after circling around the net to draw the goalie then passing to teammate Joseph Nardi for the game-winner. This is Loughran's second Rookie of the Week honor this season.
Ferris State University men's ice hockey freshman defenseman Cooper Zech (Odessa Jackalopes) has signed a professional contract to join the American Hockey League's (AHL) Providence Bruins, the top affiliate of the National Hockey League's (NHL) Boston Bruins. Zech, a native of South Lyon, became the first Bulldog freshman to lead Ferris State in point scoring since 1987-88 when John DePourcq finished with 53 points in 40 games. Zech led all Western Collegiate Hockey Association (WCHA) freshmen in point-scoring as well with eight goals and 20 assists for 28 points. He was tabbed the WCHA Preseason Rookie of the Year and is in the running for WCHA Rookie of the Year. His 0.78 points per game were the most by a freshman blueliner in NCAA Division I Men's Ice Hockey in 2018-19.
The Florida Everblades have signed forward Jay Dickman (Austin Bruins) to an Amateur Tryout (ATO) contract, Everblades head coach Brad Ralph announced on Wednesday. Dickman, 25, recently finished a four-year career at Bemidji State University, where he recorded 30 goals and 55 points in 132 career games. A native of Shoreview, Minnesota, Dickman posted six goals and 10 assists in 38 games this season as a senior with the Beavers. His 16 points were good for seventh on the team, while Dickman's 11 assists were tied for the fifth-most on the Beavers. Prior to his NCAA Division I career, Dickman played more than two seasons of junior hockey, with a bulk of his time coming with the Austin Bruins of the North American Hockey League. A 6-foot-6, 229-pound left winger, Dickman averaged more than a point per game in his NAHL career, totaling 119 points (51g-68a) in 114 career contests with the Bruins. He also suited up in 12 games for the USHL's Fargo Force in the 2011-12 season and posted five assists.
NAHL and Springfield Jr. Blues alum Ross Olsson signed his first professional contract last week for the Worcester Railers and made his debut this past Saturday against the Norfolk Admirals. In a 6-1 victory for the Railers, Olsson scored his first professional goal and got in his first professional fight. Olsson recently graduated from Endicott College where he put record numbers offensively.