Knights tighten East race with overtime win on Tuesday
March 13, 2019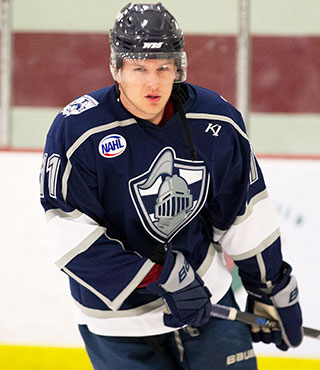 Wilkes-Barre/Scranton 2 @ New Jersey 1 (OT) - Jake Fuss scored an unassisted goal 3:06 into overtime to help the Wilkes-Barre/Scranton Knights beat the New Jersey Titans, 2-1 Tuesday night. The win ends the 12 game season series with New Jersey at an even 6-6 mark.
Wilkes-Barre earned their 21st win of the season. With nine games left in the regular season, they trail the fourth place Northeast Generals by one point for the 4th and final playoff spot. Both clubs have nine to play, including three against one another later in the month.
The Knights would capitalize off special teams in the opening frame to score the game's first goal. Defenseman Evan Orr cashed in with a shorthanded goal for the rookie's fifth tally this season. After a blocked shot in the defensive zone, Jake Fuss sprinted ahead on a breakaway. With Orr trailing, the eventual overtime hero would drop it off for Orr to wrist one through Titans goalie Brandon Perrone to get the 1-0 lead.
The Titans would find their resolve in the second period when they too would benefit from a defenseman scoring. Danny Dimon notched his first NAHL goal from atop the blue line with a slap shot that got through Zach Stejskal at the 7:37 mark of the middle frame.
With no additional scoring in the third, this contest headed to overtime. In the 3-on-3, a simple faceoff would make the difference. Jake Fuss stepped into the dot for an offensive zone draw. He won the draw where he then stuffed home the game-winner on the right side of the cage.
Stejskal remained a force in goal by making 37 stops for his 20th win of the year. Stejskal is now tied with Grant Valentine for most wins in NAHL Knights history. Valentine won 20 for the club in the 2016-17 campaign. Perrone made 29 saves in the loss.