Saturday Scores: Minot closes in on playoffs with 4th straight win
March 10, 2019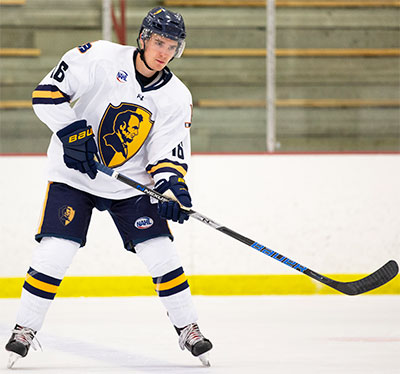 Minot 2 @ Bismarck 1 (OT) - Didrik Henbrant scored the game winning goal with 39 seconds remaining in overtime to lift the Minot Minotauros to a 2-1 victory. Fritz Belisle also scored for the Minotauros while Nicholas Grabko made 38 saves to win his second game this week. Tim Piechowski netted the only goal for Bismarck. John Roberts took the tough luck loss as he made 32 saves.
Springfield 6 @ Chippewa 4 - Six different goal scorers found the back of the net for the Jr. Blues as they defeated the Chippewa Steel, 6-4. Max Osborne, Ben Schmidling and Brandon Puricelli all had a goal and an assist. Max Brainin, Cade Groton, and Lukas Kucera also lit the lamp for Springfield. Janis Voris made 25 stops for the Jr. Blues to win his seventh game of the season. Braiden Dorfman, Jacob Dirks, Connor Szmul, and Isaac Moberg all scored for the Steel. Igor Samokhvalov and Josh Langford teamed up for 27 stops.
Shreveport 1 @ Odessa 4 - Jack Conroy scored two goals as the Odessa Jackalopes completed the sweep of the Shreveport Mudbugs. Vaclav Zidek and Connor Fedorek each had a goal of their own and Alex Camarre made 37 saves. David Breazeale scored his first goal of the season with Jack Jaunich and Timothy Clifton had the assists. Maiszon Balboa stopped 23 of 25 shots.
MN Magicians 0 @ Fairbanks 3 - Mattias Sholl stopped all 21 shots fired in his direction and the Fairbanks Ice Dogs took sole possession of first place in the Midwest Division as Fairbanks beat Minnesota, 3-0. Brenden MacLaren, Tyler Deweese and Parker Brown all lit the lamp for the Ice Dogs. Fairbanks has now shut out Minnesota for the third time in their last four meetings. Ethan Haider kept the Magicians in it as he made 40 saves.
MN Wilderness 2 @ Aberdeen 4 - Jonathan bagged two goals and an assist as he led the Aberdeen Wings to a 4-2 win over the Minnesota Wilderness. Riley Murphy and Peter Morgan also scored for the Wings. Matt Vernon grabbed his second win of the weekend as he made 20 stops. Aaron Myers scored a goal and had an assist while Landon Langenbrunner also scored. Kaleb Johnson stopped 37 shots for Minnesota.
Wilkes-Barre/Scranton 1 @ Johnstown 4 - Carter McPhail made 27 saves and the Johnstown Tomahawks defeated the Wilkes-Barre/Scranton Knights, 4-1. Roman Kraemer, Ethan Webb, Mitchell Hale and Oliver Benwell all found the back of the net for the Tomahawks. Adrian Danchenko scored the lone goal for the Knights while Zach Stejskal got the loss in goal despite making 46 saves.
New Jersey 1 @ Jamestown 6 - Niki Jasko continued his big weekend as he notched his first hat trick of the season and the Rebels went on to knock off the New Jersey Titans, 6-1. Jim Glynn bagged a goal and three assists while Colin Schmidt and Hunter Johannes also scored for Jamestown. Noah West won his second game of the weekend as he turned aside 16 shots. Kyler Head scored the only goal for the Titans. Ryan Winter and Brandon Perrone combined for 28 saves.
Northeast 3 @ Maryland 5 - Daylon Mannon potted a pair of goals as the Maryland Black Bears snapped their losing streak and defeated Northeast, 5-3. Connor Pooley, Max Borst, and Luke Posner also scored for the Black Bears. Anthony Del Tufo earned the win in goal as he made 34 saves. Alex Cohen netted a pair of goals and John Jaworski had a goal and an assist. David Fessenden took the loss as he made 33 saves.
Corpus Christi 7 @ Topeka 8 (OT) - Connor Zilisch scored the game winning goal at 3:16 of overtime as the Topeka Pilots won a wild game over the Corpus Christi IceRays, 8-7. Hugh Quinn had a huge night as he netted two goals and two assists. Michael Muschitiello lit the lamp twice while Quinn Green and Max Finner each had a goal and an assist. Christian Thomas found the back of the net and Austin McCarthy added three assists. Emil Gransoe got the win as he made 15 saves in relief. Jake Stella and Santeri Hartikainen each potted a pair of goals. Blake Bennett netted a goal and two assists and Mitchell Walinski had three assists. Kyle Moore and Austin Koss also scored for the IceRays. Samuel Vyletelka and Brian George combined for 32 stops.
Amarillo 5 @ Lone Star 1 - Brenden Datema scored twice and Logan Jenuwine added his 48th of the season as the Amarillo Bulls took care of the Lone Star Brahmas, 5-1. Gabriel Seger had a goal and two assists. Jason Brancheau also scored and added an assist. Justin Evenson improved to 14-1-1 on the year. Joey Baez netted the only goal for Lone Star and Seth Eisele was given the loss as he made 15 saves.
Janesville 1 @ Kenai River 4 - Andy Walker had two goals including the game winner as the Kenai River Brown Bears kept their slim playoff hopes alive by beating the Janesville Jets. Cody Moline and Connor Scahill also scored for Kenai River. Gavin Enright was incredible as he made 37 saves for the home club. Nicholas Nardella netted the only Janesville goal while Sam Metcalf stopped 31 of 33 shots faced.