March 8, 2019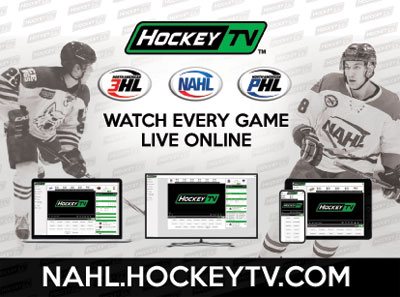 Just a month remains in the 2018-19 NAHL regular season and this weekend features all 24 teams in action as more playoff spots are on the line.
It was another incredible week for the NAHL. On the heels of adding two new teams last week with the addition of the Maine Nordiques and New Mexico Ice Wolves for the 2019-20 season, the NAHL added five more NCAA commitments this week, bringing the 2018-19 season total to 198 NCAA commitments to date.
This weekend in the Central Division, the Aberdeen Wings look to move closer to a division title as they host the Minnesota Wilderness. It is desperate times for the Wilderness, who are nine points out of a playoff spot with just 11 games to play. The two hottest teams in the division, the Minot Minotauros and Bismarck Bobcats will square off on Saturday in Bismarck after Minot won in a shootout earlier in the week, 2-1. The Austin Bruins will look to improve their playoff position as they have a home-and-home series with the Brookings Blizzard, who are looking to snap a seven-game slide.
In the East Division, the Jamestown Rebels are close to clinching a playoff spot and will look to do so at home in a series with the New Jersey Titans. The heat is on the Northeast Generals as they sit in the 4th and final playoff spot, just one point ahead of the Wilkes-Barre/Scranton Knights. The Generals will be on the road in Maryland, while the Knights have a tough task with two games against division champion Johnstown.
In the Midwest, the Fairbanks Ice Dogs return home to host the Minnesota Magicians in what could be a series that decides the regular season champions. With 11 games to go, the Magicians have just a two-point lead over Fairbanks. The Janesville Jets will try and move closer to a playoff spot with two games in Kenai River, while the Springfield Jr. Blues are also close to clinching a playoff spot and will be on the road at Chippewa this weekend.
In the South Division, the division champion Amarillo Bulls will put their four-game winning streak on the line with a pair of games at Lone Star. The Shreveport Mudbugs, who are just a point back of Lone Star for 2nd place, will be on the road against the Odessa Jackalopes. The final series is a must-win for the Topeka Pilots as they host the Corpus Christi IceRays for two games. Topeka is six points back of Corpus Christi for the fourth and final playoff spot with 11 games to play.
FRI, MARCH 8
New Jersey at Jamestown - 7:05 PM EST
Wilkes-Barre/Scranton at Johnstown - 7:30 PM EST
Northeast at Maryland - 7:45 PM EST
Brookings at Austin - 7:05 PM CST
Corpus Christi at Topeka - 7:05 PM CST
Springfield at Chippewa - 7:10 PM CST
Shreveport at Odessa - 7:11 PM CST
MN Wilderness at Aberdeen - 7:15 PM CST
Amarillo at Lone Star - 7:30 PM CST
MN Magicians at Fairbanks - 7:30 PM AKST
Janesville at Kenai River - 7:30 PM AKST
SAT, MARCH 9
Wilkes-Barre/Scranton at Johnstown - 7:00 PM EST
New Jersey at Jamestown - 7:05 PM EST
Northeast at Maryland - 7:45 PM EST
Austin at Brookings - 7:05 PM CST
Corpus Christi at Topeka - 7:05 PM CST
Springfield at Chippewa - 7:10 PM CST
Shreveport at Odessa - 7:11 PM CST
MN Wilderness at Aberdeen - 7:15 PM CST
Minot at Bismarck - 7:15 PM CST
Amarillo at Lone Star - 7:30 PM CST
MN Magicians at Fairbanks - 7:30 PM AKST
Janesville at Kenai River - 7:30 PM AKST