Tomahawks claim East Division regular season title with win
March 7, 2019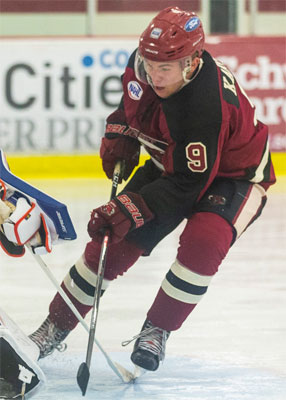 Jamestown 2 @ Johnstown 3 (OT)
- Carson Brière tallied two goals and Carter McPhail saved 25 shots en route to a 3-2 overtime thrilling win over the Jamestown Rebels, securing the franchise's first regular season East Division title at 1st Summit Arena. The Tomahawks capitalized first when Oliver Benwell tapped home a Sam Solensky pass behind Rebels netminder Noah West for a 1-0 lead in the 1st period. Neither team was able to solve the respective goalies as both teams skated into the second intermission with the Tomahawks leading 1-0. The Rebels tied the game early in the third period when Niki Jasko scored his eighth of the season. Jamestown then gained the lead with eight minutes to play in the third period with a goal from Alex Frye. After the Rebels suffered two consecutive delay of game penalties, the Tomahawks came through with 47 seconds left. Brière scored his 36th power play goal of the game to tie the contest at 2-2 before the period closed. The Tomahawks wasted little time securing their first regular season division title as just 16 seconds in to overtime Briere sent home a shot past West for the 3-2 win. West would end up making 21 saves in the loss.
Boxscore
Bismarck 1 @ Minot 2 (SO)
– In other tight Central Division contest, the Minot Minotauros scored late in the 3rd period to tie the game and then claimed the extra point in a shootout, edging the Bismarck Bobcats, 2-1 on Wednesday. It would be the Bobcats who got on the board first in the opening period as Carl Fish scored his first goal of the season as he crept in from the point and blasted a one-timer past Minot goalie Nick Grabko. It wasn't until late in the 3rd period when Minot was able to tie the game as Andrew Kangas parked himself on the back door and tapped home a pass past Bismarck goalie John Roberts to tie the game at 1-1. After a scoreless overtime, Minot came away with the extra point thanks to shootout goals from Wimer Skoog and Didrik Henbrant. Grabko made 29 saves in the win, while Roberts made 39 saves in the loss.
Boxscore