Brown Bears, Mudbugs win on Thursday
March 1, 2019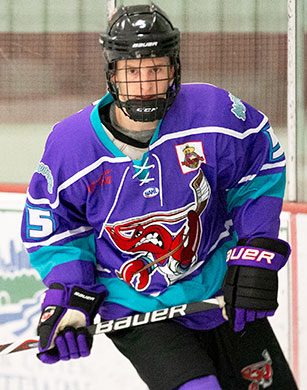 Kenai River 3 @ MN Magicians 1
– Brown Bears goalie Gavin Enright made 34 saves to lead Kenai River to a 3-1 road win in Richfield against the Magicians on Thursday night. After a scoreless 1st period, the Brown Bears were the first on the board, as they converted on a power play thanks to Alex Klekotka's 7th goal of the season with assists to Zach Krajnik and Markuss Komuls. Later in the period, the Magicians were able to tie the game with what would be their lone goal of the night as forward Jackson Jutting scored his 6th goal of the season in his return to the line-up with assists to Chris Konin and Moritz Wirth. In the 3rd period, the Brown Bears would find the game-winner with just over three minutes remaining in regulation as Cody Moline scored unassisted and then Logan Ritchie would add a late goal to secure the 3-1 road win. Magicians goalie Ethan Haider made 21 saves in the loss.
Boxscore
Shreveport 5 @ Corpus Christi 3
- The Shreveport Mudbugs spoiled the party Thursday morning, coming back from a 3-1 deficit to defeat the Corpus Christi IceRays, 5-3, in front of 6,628 fans in attendance at the IceRays' school day game. Corpus Christi's Blake Bennett opened the scoring at 9:06 of the first period, notching a one-timer on the glove side to record his team-leading 19th goal of the season. The Mudbugs responded with a rebound goal from Jack Jaunich in the final minute of the opening frame. The IceRays regained the lead at 1:13 of the second period when Nicholas Seitz fed a pass to Santeri Hartikainen, who fired a shot home for his 18th tally of the season. Seitz then picked up another primary assist under two minutes later, setting up Matthew Headland at the top of the crease as Corpus Christi went up 3-1. Shreveport once again had the answer as Gueorgui Feduolov (14:55) and Tim Clifton (15:12) scored 17 seconds apart. The Mudbugs grabbed their first lead of the game 11 minutes into the third period when Carson Nichols tipped a shot in on the backhand for his first career NAHL goal, and the eventual game-winning goal. Ethan Harrison then registered his Mudbugs-leading 18th goal of the season at 16:18 to secure the two-goal win for the visitors. Mudbugs goalie Maiszon Balboa made 38 saves in the win, while Brian George made 43 saves in the loss.
Boxscore