Amarillo, Top Prospects forward Jenuwine makes NCAA DI commitment
February 27, 2019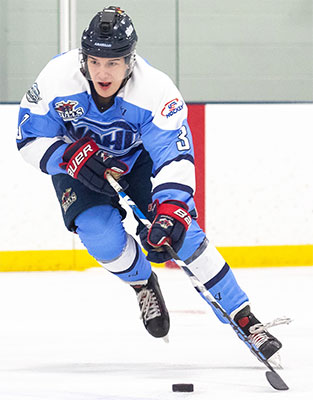 The Amarillo Bulls of the North American Hockey League (NAHL) are pleased to announce that Top Prospects forward
Logan Jenuwine
has committed to play NCAA Division I hockey for Arizona State University for the 2019-20 season.
Jenuwine, 20, who tied for the 2019 NAHL Top Prospects scoring lead just one week ago with four points, will join one of the fastest rising NCAA Division I hockey programs, who has added the hottest goal scorer in the North American Hockey League.
"I'm very excited, they have a great coaching staff who really like the way I play," he said. "I really feel I can make a big impact even as a freshman for their team. They are a very young team with this being their fourth year in Division I, and they are ranked Top 15 in the country.
On top of that, it's an incredible school, their set up is beautiful, and you can't play in a much better place. Their academics are incredible too and they have an honors college that I will be in."
It's been an offensive explosion this season for Jenuwine, a 6'2/195 lbs. native of Romeo, Michigan, who leads the NAHL in points with 81, goals with 43, and game winning goals with 11. He is five goals shy of tying Chris Brooks for the all-time goal scoring in a single season in Amarillo Hockey History.
Jenuwine was selected to and played in the 2019 NAHL Top Prospects Tournament for the South Division team. He tied for the Tournament lead in points with four during the event.
"We are very proud of Logan and excited for him and his family for his commitment to Arizona State University," said Bulls Head Coach Rocky Russo. "Logan has been a huge part of our success this season, both on and off the ice. He is very competitive and a great leader.
"His work ethic and desire to help our team succeed is a trait that rubs off on his teammates. Coach Powers and his staff are building a tremendous program at ASU, and I am confident that Logan will be an outstanding addition both in the classroom and on the ice."
Jenuwine said that coming to Amarillo and the NAHL has been a tremendous experience and glad to call the Texas Panhandle home.
"Amarillo has been awesome with everyone from the players, coaches and the front office staff," he said. "It's been a blessing to come here and get the ice time I haven't received in the past two years of juniors. I think it has showed and I've done a good job with that. I couldn't have done it without everyone."
The family atmosphere has been a key part of the Amarillo Bulls success on the ice this season and will be an ingredient for players moving forward to the next level. Jenuwine said his family has been very supportive through it all.
"My parents, my brother and sister, and my whole family have been a huge support and blessing for me," he said. "They have always been there for me even the last two years when things have not been going the best. They are really excited for this to happen to me."
"I really want to thank Gabriel Seger, who been my centerman through the ups and downs of the season, and the success we have had is due to him. Gab a terrific hockey player and a great person. The last month and a half Alex Peterson has been terrific and I also want to thank Rocky (Russo) and George (Lewis). There are a lot of people in my life who I am truly blessed with and have helped to make this a reality."
Logan Jenuwine joins Gabriel Seger (Union College), Brett Abdelnour (Army-West Point), Jason Grande (Bentley), Justin Evenson (Army-West Point), Nick Anderson (Colgate), Alex Peterson (Holy Cross), Brenden Datema (Michigan Tech), and Jason Brancheau (Ferris State) as Bulls player on the 2019-20 roster to make their NCAA College Commitments.