Jr. Blues offense explodes again in Sunday rubber match
February 25, 2019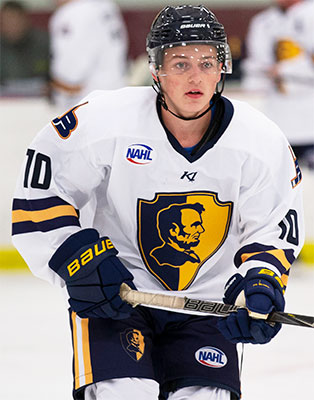 Kenai River 3 @ Springfield 9 – Jr. Blues forward Nikita Kozyrev stayed red hot on Sunday. Kozyrev scored two first-period goals to get the Springfield Jr. Blues started on the right foot en route to a 9-3 victory over the Kenai River Brown Bears in the lone NAHL game on Sunday. Kozyrev finished with two goals and one assist Sunday after getting the hat trick in the Jr. Blues' 8-0 victory against Kenai River the previous day.
Kozyrev scored both of his goals in the opening four minutes of the 1st period. Markuss Komuls was able to answer briefly for the Brown Bears to make it 2-1 after one period.
In the 2nd period, the Jr. Blues blew the game wide open with three goals to take a commanding 5-1 lead as Reed Stark, Nick Techel and Braden Stewart all scored.
In the 3rd period, the Jr. Blues added four more goals, including tallies from Max Brainin, Ben Schmidling, Aaron Swanson and another from Techel. Other Brown Bears goals came from Michael Spethmann and Laudon Poellinger.
Janis Voris made 21 saves in the win for the Jr. Blues, while Gavin Enright allowed eight goals on 33 shots after being pulled in favor of Andrew Slobiski, who made six save on seven shots.