February 22, 2019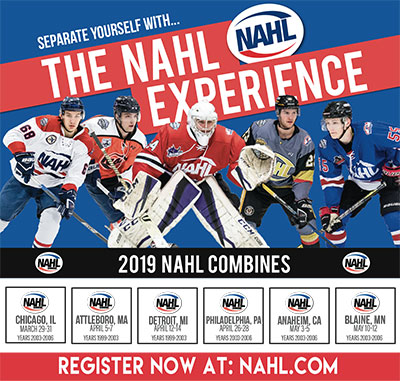 With another successful NAHL Top Prospects Tournament concluded earlier this week, the NAHL gets back into the regular swing of things with 20 games this weekend.
The 2019 NAHL Top Prospects Tournament continued to be one of the most highly scouted events of its kind. Over 200+ scouts attended this year's event, which featured almost every NHL team and NCAA Division I school. The event continues to provide the hundreds of NHL and NCAA scouts in attendance with a look at the best uncommitted players the NAHL has to offer, as well as, some potential NHL Draft picks.
Four more players made NCAA commitments this week, bringing the 2018-19 season total to 182 players.
Now NAHL put the pedal down and race towards the Robertson Cup Playoffs, which begin in early April.
This weekend in the Central Division features more intriguing match-ups. The Aberdeen Wings are just a few wins away from clinching the division's first playoff spot and face a tough test as they host the 2nd place Minot Minotauros, who have won eight of their last 10. Just a point behind Minot in 3rd place sit the Austin Bruins, who will have a home-and-home series against the Minnesota Wilderness, who sit just one point behind Bismarck for the 4th and final playoff spot. Speaking of Bismarck, the Bobcats haven't lost in regulation in their last six, but take the show on the road this weekend to face the Brookings Blizzard.
In the East, the Johnstown Tomahawks look to close in on a division title as they go on the road to face the Maryland Black Bears, who have lost five in a row. The Northeast Generals, who have a one-point edge for the final playoff spot, will have a tough test with two games in Jamestown against the Rebels on Pink in the Rink weekend. Meanwhile, the New Jersey Titans will look to continue their hot play with one game this weekend on Friday night in Wilkes-Barre/Scranton against the Knights, who are one point out of a playoff spot and who have won three in a row.
In the Midwest Division, the hottest team in the league, the Fairbanks Ice Dogs, are just one point out of 1st place and will be in Janesville to take on the Jets, who are in 3rd place. The 1st place Minnesota Magicians look to get their offense going with a home-and-home series against the Chippewa Steel. The final series has the Springfield Jr. Blues trying to catch Janesville for 3rd place, as they host the Kenai River Brown Bears on Saturday and the lone NAHL game on Sunday.
The South Division schedule is a light one this weekend as 1st and last place lock horns as the Amarillo Bulls host the Odessa Jackalopes for a pair of games, while Shreveport, Lone Star, Corpus Christi and Topeka all are idle.
FRI, FEBRUARY 22
New Jersey at Wilkes-Barre/Scranton - 7:00 PM EST
Northeast at Jamestown - 7:05 PM EST
Johnstown at Maryland - 7:45 PM EST
Odessa at Amarillo - 7:05 PM CST
MN Wilderness at Austin - 7:05 PM CST
Bismarck at Brookings - 7:05 PM CST
Fairbanks at Janesville - 7:05 PM CST
Kenai River at Springfield - 7:05 PM CST
MN Magicians at Chippewa - 7:10 PM CST
Minot at Aberdeen - 7:15 PM CST
SAT, FEBRUARY 23
Northeast at Jamestown - 7:05 PM EST
Kenai River at Springfield - 6:05 PM CST
Johnstown at Maryland - 7:45 PM EST
Chippewa at MN Magicians - 7:00 PM CST
Odessa at Amarillo - 7:05 PM CST
Bismarck at Brookings - 7:05 PM CST
Fairbanks at Janesville - 7:05 PM CST
Minot at Aberdeen - 7:15 PM CST
Austin at MN Wilderness - 7:35 PM CST
SUN, FEBRUARY 24
Kenai River at Springfield - 4:05 PM CST