South, Selects Blue go undefeated at Top Prospects Tournament
February 19, 2019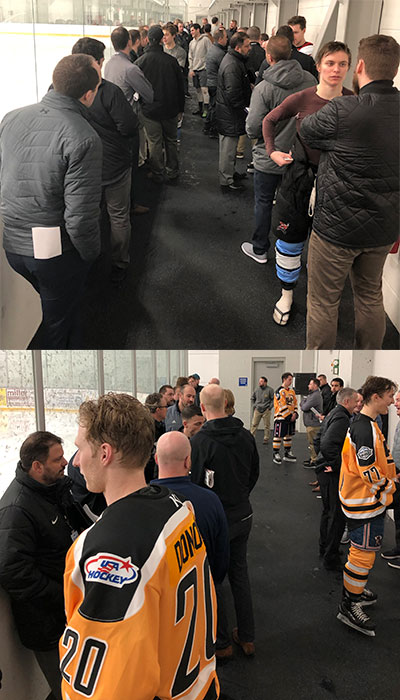 It was an exciting final day at the 2019 NAHL Top Prospects Tournament as the games on Tuesday featured plenty of scoring and some close games.
Despite having the event for the past nine years in the state of Michigan, this year's new location in Attleboro, Massachusetts was a rousing success, as scouting and attendance numbers once again set a new standard.
"We have done a lot of events and this one did not disappoint. It is the first time we have hosted an event on the East Coast since 2010 and we could not be happier with the result. To see that many NHL and NCAA scouts in the building early in the week was affirmation that our league has a wide variety and plenty of talent to offer," said NAHL Commissioner Mark Frankenfeld. "I thought the players played at a very high level and battled very hard. You have to keep in mind all of them played on Friday and Saturday this past weekend, traveled all day on Sunday, and then were put into a very high-pressure situation with a lot of eyes on them the past two days, and trying to do it with guys with divisional teammates they compete against all year. I thought the transition was seamless."
With over 220+ NCAA, NHL, and other college and junior scouts checking in, the NAHL Top Prospects Tournament once again proved that it is a vital and important part of the NAHL event model, which includes the NAHL Showcase in September and the NAHL Robertson Cup National Championship in May.
One of the things the NAHL does better than any other junior league is seeing their players earn an NCAA opportunity while playing and being showcased in the NAHL. To date, 179 players have already made NCAA commitments during the 2018-19 season, and that number is sure to skyrocket after this year's event.
Carson Briere (Johnstown) and Logan Jenuwine (Amarillo), who are both uncommitted players, shared the scoring lead at the event, both recording four points.
Game 4: Central Division 5 vs. NAHL Selects Red 4 (OT) – Five different players scored for the Central team, including Shawn Kennedy (Aberdeen), who had a goal and two assists as the Central edged the Selects Red team, 5-4 in overtime. Central led 2-0 after one period with goals from John Sladic (Aberdeen) and Jack Johnson (MN Wilderness). Selects Red tied the game at 2-2 in the 2nd period with goals from Ryan Taylor (Bismarck) and Sam Antenucci (Brookings). In the 3rd period, each team scored twice as Kennedy and Dante Zapata (Austin Bruins) lit the lamp for Central, only to see Jake Hale (MN Magicians) and Jonathan Sorenson (Fairbanks) respond for Selects Red. In the overtime, Dylan Johnson (MN Wilderness) ended the game as he potted home a nice 2 on 1 pass from Kennedy. Both Central goalies put up some good numbers as George McBey stopped 30 of 33 shots in two games, including 17 saves in Tuesday's win, while Nick Grabko (Minot) stopped 28 of 31 shots in two games and only allowed one goal on 17 shots in Tuesday's win. For NAHL Selects Red, Cole Brady stopped 29 of 32 shots in two games, including 12 saves on Tuesday. Jack Williams (Springfield) stopped 40 of 46 shots in the two games, which included 20 saves each outing.
Game 5: NAHL Selects Blue 5 vs. East Division 1 - In the most lopsided game of the day, NAHL Selects Blue rolled to a perfect 2-0 record at the event thanks to a convincing. Five different players scored for Selects Blue as they took a 2-0 lead midway through the 1st period on goals from Gabe Temple (WBS Knights) and Cameron Hebert (Johnstown), who earlier in the day was named the NAHL's East Division Star of the Week. The East Division potted its only goal later in the 1st period as Shay Donovan (WBS Knights) lit the lamp. In the 2nd period, Selects Blue took a 3-1 lead thanks to a bomb from the point from defenseman Brenden Datema (Amarillo), and then put the game away in the 3rd period with goals from Quinn Warmuth (Minot) and Kyle Jeffers (New Jersey). Selects Blue goalie Ethan Haider was one of the main stars of the event, as he stopped all 45 shots that came his way in the two games, including 28 saves on Tuesday. Samuel Vyleteka (Corpus Christi) stopped 30 of 33 shots in the event, including 18 saves in the win the final day. For the East Division, Ryan Keane (Jamestown) stopped 36 of 39 shots in the event, including 19 saves on Tuesday, and David Tomeo (Maryland) stopped 31 of 33 shots, including 24 saves on Tuesday.
Game 6: South Division 2 vs. Midwest Division 1 (OT) – While the final game didn't pack the offensive punch the others did, it wasn't without its excitement as the South Division posted a 2-0 record thanks to a 2-1 overtime win. The Midwest got on the board first in the early stages of the 1st period as Matt Stanton (MN Magicians) put home a wrist shot. It wasn't until midway through the 3rd period that the South tied the game as Kyle Moore (Corpus Christi) got loose behind the defense and scored on a shorthanded breakaway goal to make it 1-1. In the overtime, Frank Trazzera (Lone Star) pounced on a loose puck and slid one home to give the South a 2-1 win. Logan Jenuwine (Amarillo) would pick up assists on both South goals. South goalie Leo Chuard (Shreveport) allowed just a single goal in two appearances at the event, stopping 32 of 33 shots in the process, while Emil Gransoe (Topeka) was perfect in both his appearances, not allowing a goal in 21 total shots. For the Midwest, Igor Samokhvalov (Chippewa) allowed six goals on 32 shots in two outings and Janis Voris (Springfield) stopped 31 of 33 shots, including all 15 that came his way on Tuesday.