Amarillo forward Seger makes NCAA DI commitment
February 18, 2019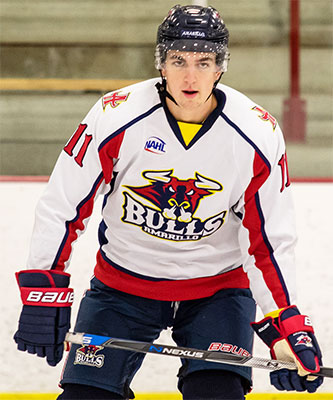 The Amarillo Bulls of the North American Hockey League (NAHL) are pleased to announce that forward
Gabriel Seger
achieved his goal and dream by announcing his NCAA Division I commitment to Union College in Hockey East for the 2020-21 season.
Seger joins several Swedish born players that have played in the Texas Panhandle to move on to Division I Hockey, joining the likes of John and Hampus Gustafson (Merrimack College), and Anton Martinsson (University of Alaska-Fairbanks) just to name a few.
"This is why I wanted to come play hockey in the United States was to get a scholarship, further my education and win a championship," Seger said. One of my two goals has been completed so next is to win a championship."
In 43 games with the Bulls, Seger has picked up 11 goals and added 34 assists for 45 points. Eleven of his 34 assists have been via the power play, and he has also added two first goals and one game winner.
Seger said that Union College is a great fit for him. "They had such a good hockey program and won the championship in 2014 and have great coaches," Seger said. "At the same time, they are very strong academically and you can get a great education. The City where the school is located reminds me of home with the snow and the cold weather too."
Bulls Head Coach Rocky Russo said the team is proud of Seger's commitment, and the work he has put in this season. "He has worked extremely hard this season to reach his goal of playing Division I college hockey and earned this opportunity," Russo said. "He has also given himself the opportunity to develop another year in Amarillo before entering Union in the fall of 2020.
"Gabriel is a 200-foot centerman that is impactful in all situations. He defends very well and has an outstanding hockey IQ. I have no doubt that he will be a tremendous addition to Coach Bennett's program both on the ice and in the classroom."
Seger said that he's had a great experience in the North American Hockey League and has seen an improvement in his game right from day one. "We have great practices and coaches here in Amarillo," he said. We push each other both in workouts and on the ice so it feels like I am improving every day."
Seger said he owes everything to the Amarillo Bulls organization. "Without the Amarillo Bulls I probably would not commit to Union College," he said. "The coaches, my line mates, the hard work i have put in that is the reason I am able to commit to this school."
Gabriel Seger is the 104th Amarillo Bulls player in nine years to announce their NCAA College Commitment and is the 7th on this year's roster joining Brett Abdelnour (Army-West Point), Jason Grande (Bentley University), Nick Anderson (Colgate), Justin Evenson (Army-West Point), Alex Peterson (Holy Cross), Brenden Datema (Michigan Tech) and Jason Brancheau (Ferris State).