Bobcats, Steel pick up wins on Thursday night
February 15, 2019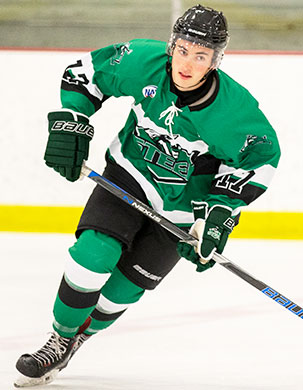 Bismarck 3 @ Aberdeen 2
– The Bismarck Bobcats gave their playoff hopes a huge shot in the arm thanks to a 3-2 win in Aberdeen against the 1st place Wings. With the win, the Bobcats are now three points ahead of the Minnesota Wilderness for the 4th and final spot in the Central Division standings with 49 points. Things started well for the Wings, who jumped out to a 2-0 lead midway through the contest thanks to a 1st period goal from Dalton Weigel and a 2nd period goal from Brad Belisle. The Bobcats mounted their comeback later in the 2nd period as goals from Daniel Chladek and Jacob Marti tied the game at 2-2 after two periods. In the 3rd period, the Bobcats took their first lead of the game thanks to a power play goal from Adam Stacho, which would stand as the game-winner. John Roberts picked up the win, making 27 saves in the win, while Matt Vernon made 30 saves in the loss.
Boxscore
Kenai River 1 @ Chippewa 2 (OT)
- The Chippewa Steel came from behind to defeat the Kenai River Brown Bears on Thursday night by a score of 2-1 in overtime. Alex Klekotka of Kenai River scored the first goal of night unassisted in just under two minutes into the contest. After a scoreless 2nd period the Brown Bears retained a 1-0 lead heading into the final frame. The Steel fought back in the 3rd period with a goal from Kyle Schroeder assisted by Chase Davidson and Dylan Moulton. Regulation was not enough on Thursday night in Chippewa as the game went into overtime. With a potential shootout looming and just a minute left in overtime, Connor Szmul won the game for the Steel. His goal was assisted by Dylan Moulton and Killian Kiecker-Olson. In goal for the Brown Bears was Gavin Enright with 36 saves and Igor Samokhvalov with 35 saves and the win.
Boxscore