Rebels topple Tomahawks in OT to win third straight
February 13, 2019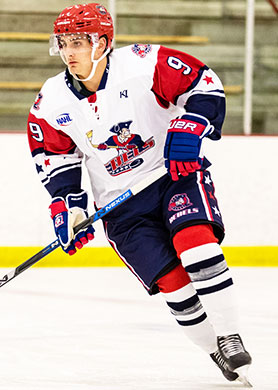 Johnstown 2 @ Jamestown 3 (OT) – The Jamestown Rebels inched closer to a playoff spot as they edged the Johnstown Tomahawks, 3-2 in over in a morning affair at the Northwest Arena in Jamestown in front of a great crowd of 1,287 fans. The win was Jamestown's third straight, as they now sit five wins away from clinching a playoff spot in the East Division.
Despite the early start time, the Tomahawks warmed to the task by preventing the Rebels from firing quality chances at netminder Carter McPhail. Johnstown scored the game's first goal with under five minutes to play in the period. Cameron Hebert tapped in a Roman Kraemer rebound past Rebels goaltender Ryan Keane. The goal was Hebert's 21st of the season
The Tomahawks were unable to add to their lead as Keane set aside all Tomahawks shots in the period. McPhail also was on point, halting several Jamestown chances. Both teams skated in the second intermission with the Tomahawks leading 1-0.
The Rebels tied the game early in the third period after Alex Frye scored his 25th of the season. Jamestown gained a 2-1 edge under two minutes later when Eric Olson's wrist shot beat McPhail. However, the Tomahawks battled back and tied the game when Hebert's chipped the puck over the glove of Keane for his second of the afternoon and 22nd on the season.
In the overtime, Jamestown forward Auggie Moore scored the game-winner at the 2:30 mark of the extra frame as he created space for himself with the nice cycling in the offensive zone and wired a slap shot past the glove of McPhail.
Keane made 22 saves for his 20th win of the year, while McPhail made 31 saves in the overtime loss.