February 13, 2019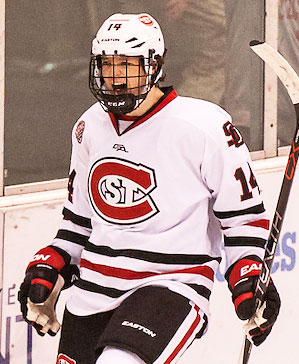 Air Force senior and NAHL (Aberdeen Wings) and NAPHL alum
Kyle Haak
has been named a finalist for the 2018-19 Senior CLASS Award. Haak is one of 10 college hockey players selected as a finalist for the national award. Haak is the 11th Falcon to be named a finalist in the last 13 years. The finalists were chosen by national media from the list of candidates announced in the fall. Nationwide fan voting begins immediately to help select the winner, and fans are encouraged to submit votes online at the
Senior CLASS Award website
through April 8. Fan votes will be combined with those of the media and Division I head coaches to determine the winners. The Senior CLASS Award recipients will be announced during the 2019 NCAA Men's Frozen Four®. Haak, a forward from Okemos, Mich., carries a 3.94 grade point average with a major in physics and a minor in nuclear weapons and strategy. He is ranked second out of 1,106 cadets in the class of 2019, a ranking that includes academics, athletics and military performance. He has been on the superintendent's list all six semesters for excellence in academics, military and physical fitness. This past summer, he completed an internship with Fluence Corporation in Caesarea, Israel, attended the International Desalination Association "Water Re-Use" Conference in Valencia, Spain, studied alternative energy in Reykjavik, Iceland and studied nuclear energy at Oak Ridge National Labs in Tennessee. The squadron commander of Cadet Squadron 31, he has earned a 4.0 GPA in three semesters. Haak is a two-time CoSIDA Academic All-American, earning the honor in 2017 and 2018 and is a three-time academic all-conference selection.
Atlantic Hockey Defensive Player of the Week: Nicolas Luka, AIC (Coulee Region)
Luka had an outstanding weekend for AIC in a sweep at Army West Point. In Friday's 3-0 win, he set up all three goals, and he also played stalwart defense in a 5-2 victory. He blocked three shots and finished the two games with a plus-4 rating.
ECAC Goalie of the Week: Luke Kania, Brown (MN Wilderness/Aberdeen)
Luke Kania picks up goalie of the week accolades after leading the red hot Bears to a pair of ECAC Hockey wins, including one over No. 4 Quinnipiac on Saturday. The sophomore allowed just three goals over the weekend, stopping 79 of the 82 shots that came his way. In the win over the Bobcats, he stopped 47 of the 48 shots he faced, allowing his team to come away with a 4-1 win.
Hockey East Co-Defensive Players of the Week: Tomas Vomacka, UConn (Corpus Christi)
Tomas Vomacka (Truntov, Czech Republic) started each game for the Huskies last week, earning his first Hockey East win and his first shutout in a two-win weekend. He tied his season-high with 31 saves to help UConn to a 3-2 overtime win over #13 Northeastern on Thursday before kicking out all 29 in a 5-0 win over Merrimack on Saturday.
Hockey East Co-Defensive Players of the Week: Stefanos Lekkas, Vermont (Springfield)
Stefanos Lekkas (Elburn, Ill.) stopped 57 of 59 shots he faced from New Hampshire in a weekend split at home. Lekkas kicked out 26 shots in a 1-0 setback and made 31 saves in Saturday's 4-1 win to finish with a 1.01 GAA and .966 save percentage.
NCHC Offensive Player of the Week: Patrick Newell, St. Cloud St. (Fairbanks)
Newell led St. Cloud State to a five-point weekend against Colorado College, single-handedly leading SCSU to a comeback win on Saturday. On Friday, he was held off the scoreboard, but fired three shots on goal in a 2-2 overtime tie. The next night, Newell tallied a career-high four points on two goals and two assists in a 5-4 overtime win. He had the primary assist on the game's first goal, then tallied his final three points in a comeback effort. Trailing 4-2 late in the third period, Newell again had the primary assist on a goal to make it 4-3, while he scored the game-tying goal less than a minute later to force overtime and then scored the game-winner with 1:07 left in the extra session. He put eight shots on goal in the comeback win and was +4 while earning First Star of the Game. Newell finished the series with two goals, two assists, 11 shots on goal and a +4 plus/minus.
NCHC Rookie of the Week: Scott Corbett, Miami (Coulee Region)
Corbett notched his first career multi-point game to help lead Miami to a win over Omaha and snap a nine-game losing streak. In Friday's loss to the Mavericks, he played on MU's top line, putting one shot on goal with an even plus/minus. The next night, Corbett helped give Miami its first win since Nov. 17, halting a 15-game winless skid, tallying a goal and an assist. He had a helper on the RedHawks' second goal to make it 2-0, while he scored MU's third goal, which proved to be the game-winner in a 4-2 victory. Corbett fired three shots on goal and was +2 on Saturday, as well. He finished the series with a goal, an assist, a +2 plus/minus and four shots on goal.
WCHA Forward of the Week: Marc Michaelis, Minnesota State (MN Magicians)
Minnesota State's Marc Michaelis had three points on two goals and an assist, with six shots on goal and a +1 rating in two games at Michigan Tech last weekend. The junior was named Winter Carnival MVP for his performance. He had two shots on goal in Friday's 1-1 tie Friday and had a hand in all three goals as the Mavericks claimed the Winter Carnival championship with Saturday's 3-2 overtime victory. The Hobey Baker Award candidate scored a pair of power play goals in to help erase a two-goal deficit and assisted on Connor Mackey's overtime game-winning goal. He leads Minnesota State and ranks 12th in the nation in scoring with 15 goals and 18 assists for 33 points. The Manheim, Germany, native has 109 points in 107 career games to rank ninth on MSU's career scoring list. This is his first weekly honor in 2018-19.
WCHA Goaltender of the Week: Dryden McKay, Minnesota State (Springfield)
Minnesota State's Dryden McKay stopped 57-of-60 shots in two games at Michigan Tech last weekend for a .950 save percentage and a 1.38 goals against average. He stopped 24 shots in Friday's 1-1 overtime before turning away all four shots as the Mavericks claimed a 1-0 shootout victory. The Downers Grove, Ill., native had 33 saves Saturday in MSU's 3-2 overtime win. He stands 17-5-2 overall with a 1.87 goals against average and a .923 save percentage. McKay has started the last 14 games for the Mavericks and leads all freshmen goaltenders in the nation in minutes played (1477:55), wins (17), goals against average (1.87) and shutouts (3). This is McKay's fifth weekly honor this season and his fourth Goaltender of the Week selection (Dec. 3, Jan. 14, Feb. 4). He was also named Rookie of the Week on Oct. 15.