Briere leads Tomahawks to three-game sweep of Maryland
February 10, 2019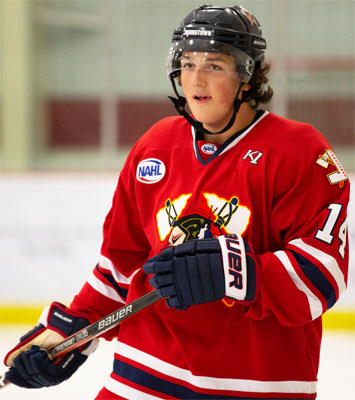 Maryland 5 @ Johnstown 7 - Johnstown Tomahawks forward Carson Brière scored four goals in a wild 7-5 win over the Maryland Black Bears Sunday afternoon at 1st Summit Arena, which completed a three-game weekend sweep for the East Division-leading Tomahawks.
Johnstown scored midway through the opening period as Carter Dwyer netted the game's first goal with backhand breakaway marker 12 minutes into the first period. Nine seconds after the Tomahawks gained the 1-0 lead, the Black Bears tied the score with a breakaway goal from Daylon Mannon. However, Chris Trouba's slap shot from the right point put the Tomahawks back in the lead two minutes after Mannon's goal.
A wild and rowdy second period began with a goal from Maryland's George Vonakis to tie the game at 2-2. Johnstown regained the lead 3-2 after Carson Brière scored his 30th of the season and 22nd on the power play. The Black Bears tied the game once again with a marker from forward Nick Grimaldi. But the Tomahawks, again, responded with two goals from Oliver Benwell and Briere for a 5-3 lead. Maryland battled back as the period closed with two goals from Mannon and Connor Pooley for a 5-5 tie heading into the second intermission.
Brière would put the Tomahawks ahead 6-5 with an individual effort goal for the hat trick and his 32nd goal of the season. However, Brière was not finished as the forward scored his fourth goal of the game to set the final at 7-5.
With four goals on the game, Brière surpassed alumnus Donovan Ott with his 33rd goal of the season. Ott previously set the mark with 32 goals in one season.
Cooper Lukenda made 25 saves in the win for the Tomahawks, while Anthony Del Tufo took the loss for the Black Bears, also making 25 saves.