Friday Finals: Minotauros stay hot to tighten Central race
February 9, 2019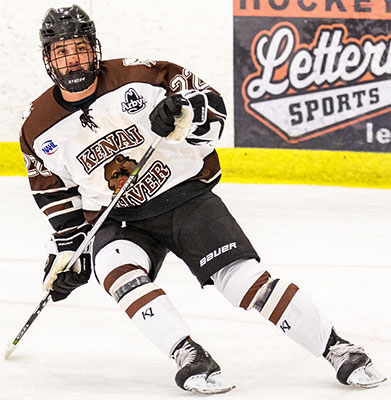 Minot 5 @ MN Wilderness 0 - The Minot Minotauros scored a huge shutout win over the Minnesota Wilderness on Friday night. Nicholas Grabko was a brick wall as he stopped all 27 shots fired in his direction. Sam Skinner led all skaters with a goal and two assists. Cole O'Connell and David Raisanen each had a goal and an assist while Kevin Ness and Matthew Gellerman also found twine. Ryan Fanti made 15 saves for Minnesota.
Corpus Christi 1 @ Kenai River 5 - The Kenai River Brown Bears won their third straight game as they defeated the Corpus Christi IceRays 5-1. Connor Scahill and Zach Krajnik each had a goal and an assist while Michael Spethmann. Logan Ritchie and Justin Daly all found the back of the net as well. Gavin Enright made 31 saves for his 10th win of the year. Brian Kramer netted the lone goal of the night for Corpus Christi. Samuel Vyletelka denied 21 shots in the loss.
Topeka 0 @ Fairbanks 4 - It was all Fairbanks on Friday night as they blanked the Topeka Pilots 4-0. Tanner Edwards had a goal and an a assist and John Stampohar also lit the lamp. Jake Borgida and Matt Koethe also found themselves on the scoresheet for Fairbanks as well. Matthias Sholl wasn't tested often but when Fairbanks needed him he came up clutch. He made 17 saves en route to his sixth win and second shutout of the year.
Brookings 6 @ Aberdeen 5 (OT) - Brady Bjork's second goal of the game propelled the Brookings Blizzard to a 6-5 overtime victory. Bjork finished with three points while Bud Winter put up a three point night as well. Owen Belisle and Tyler Hinterser each had a goal and an assist for Brookings. Stepan Pokorny had a night he won't soon forget as the winger had four goals for Aberdeen. Nic Sicoly also scored for Aberdeen.
Austin 2 @ Bismarck 3 (SO) - The Bismarck Bobcats grabbed a huge extra point as Sam Malinski and Adam Stacho each netted goals in the shootout. Nicolas Appendino and Stacho scored for Bismarck In regulation. John Roberts made 21 saves in order to pick up the win. Dante Zapata and Ben Almquist lit the lamp for Austin as Kyle McClellan turned aside 40 shots for the Bruins.
Springfield 1 @ MN Magicians 0 - Braden Stewart had the only goal of the game and it proved to be the game winner as the Springfield Jr. Blues shutout the Minnesota Magicians 1-0. Jack Williams was excellent as Jack Williams stood on his head and made 37 saves for Springfield. Ethan Haider was almost as good as he allowed just a single goal on 35 opportunities.
New Jersey 1 @ Jamestown 2 - Nick Stuckless and Alex Frye both found the back of the net and the Jamestown Rebels knocked off the New Jersey Titans 2-1. Ryan Keane turned aside 15 shots to win his 19h game of the season. Gavin Gulash scored the only goal for the Titans with the assists going to Ryan Naumovski and Mitch Machlitt. Brandon Perrone denied 27 shots in the loss.
Maryland 2 @ Johnstown 8 - Cameron Hebert led the way with four points as the Johnstown Tomahawks rolled to a 8-2 victory over the Maryland Black Bears. Carson Briere and Samuel Solensky each had a goal and two assists for the Tomahawks. Roman Kraemer and Oliver Benwell notched a goal and an assist each while Chris Trouba, Joe Kile and Pavel Karin all lit the lamp as well. Carter McPhail earned his 22nd win of the year by making 22 saves. Jonathan Young and Bobby Batten scored for the Black Bears while David Tomeo and Anthony Del Tufo combined for 26 saves.
Lone Star 1 @ Amarillo 5 - The offensive onslaught continued for Logan Jenuwine as he scored another two goals and logged an assist. Jake Willets, Alex Peterson and Nick Trela all scored goals for Amarillo. Jason Grande improved 18-4-1 as he made 18 stops. Vadim Kiryakov scored the only goal for Lone Star and Matt Sankner made 22 stops.
Janesville 2 @ Chippewa 1 (OT) - Matt Hanewall's goal in overtime lifted the Janesville Jets to a 2-1 overtime win over the Chippewa Steel. Erik Bargholtz scored the only goal in regulation for the Jets. Sean Driscoll and Nick Gonrowski had the assists on Bargoltz's goal.. Garrett Nieto, playing in his first game since October, made 26 saves on 27 shots. Killian Kiecker-Olson netted the long goal for Chippewa. Josh Langford stopped 37 of 39 for the Steel.
Odessa 2 @ Shreveport 1 - The Odessa Jackalopes doubled up the Shreveport Mudbugs 2-1 as Joseph Winkelmann and Jan Blasko each found the back of the net for the Jacks, who now find themselves just seven points out of the final playoff spot with 18 games to go. Odessa goalie Kade Phipps was the star of the night, stopping 38 of 39 Mudbugs shots. Warren Natyshak had the lone goal for the Mudbugs and Leo Chuard made 28 saves in the losing effort.