NAHL, NA3HL alumni named to 2019 U.S. Men's National University Team
February 8, 2019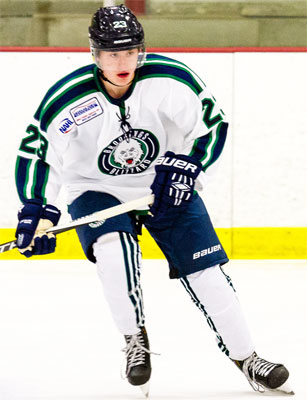 The 22-player roster for the U.S. Men's National University Team that will compete in the 2019 Winter World University Games from March 1-9 in Krasnoyarsk, Russia, has been announced by USA Hockey.
The group of 22 players includes 13 alumni of the NAHL and five alumni of the NA3HL. In addition, one of the team's assistant coaches, Eric Ballard (University of Colorado), is also a former NAHL head coach, having coached the Fresno Monsters in the NAHL for four years.
"This group has a lot of talent and character," said Roger Grillo (North Kingstown, R.I.), head coach of the 2019 U.S. Men's National University Team. "We're really excited to get over to Russia and represent the United States with pride at the Winter World University Games."
The complete roster, which includes two goaltenders, seven defensemen and 13 forwards, is comprised of players that compete in the National Collegiate Athletic Association (NCAA) and American Collegiate Hockey Association (ACHA).
Among the newcomers is forward and NAHL grad Anthony Cusanelli (Holmdel, N.J./University of Arizona), the reigning ACHA Rookie of the Year, who finished his freshman season with 51 points (31 goals, 20 assists) in 28 games. The forward was also selected to the All-Rookie Team along with former NAHL and NA3HL goaltender Cooper Seedott (Northville, Mich./Lindenwood University), who is also making his Team USA debut.
More players making their debuts for Team USA include seven players with NCAA Division I experience in goaltender Kristian Oldham (Anchorage, Alaska/Clarkson University), defenseman Ben Newhouse (Edina, Minn./Northern Michigan University) and forwards Gage Mackie (Anchorage, Alaska/Arizona State University), Jake Pappalardo (Salem, N.H./College of the Holy Cross), Ty Pelton-Byce (Madison, Wis./University of Wisconsin), Sam Rennaker (Grand Rapids, Mich./University of Maine), and Jack Rowe (Cary, Ind./Arizona State University).
Team USA opens the tournament in Krasnoyarsk against the Czech Republic on Friday, March 1, at 4:00 a.m. ET.
NAHL and NA3HL Alumni on the roster
Anthony Cusanelli, University of Arizona (New Jersey Titans)
Jacob Houston, Ohio University (Johnstown Tomahawks/Amarillo Bulls)
Trace Jablin, University of Colorado (Odessa Jackalopes, St. Louis Jr. Blues NA3HL)
Joe Kinsella, University of Colorado (Northeast, Odessa, Austin)
Gage Mackie, Arizona State University NCAA (Aberdeen Wings)
Zach Mitchell, Lindenwood University (Brookings Blizzard, St. Louis Jr. Blues NA3HL)
Brendan Murphy, Lindenwood University (Amarillo/Corpus Christi/Peoria Mustangs NA3HL)
Kris Oldham, Clarkson University NCAA (Kenai River Brown Bears)
Tyler Opilka, University of Illinois (MN Magicians/Springfield/St. Louis Jr. Blues NA3HL)
Sam Rennaker, University of Maine NCAA (Topeka RoadRunners)
Cooper Seedott, Lindenwood University (Shreveport Mudbugs/Point Mallard Ducks NA3HL)
Jake Townsend, Lindenwood University (Wichita Falls Wildcats)
Jared Turcotte, UNLV (Bismarck Bobcats)