Amarillo forward Abdelnour makes NCAA DI commitment
February 7, 2019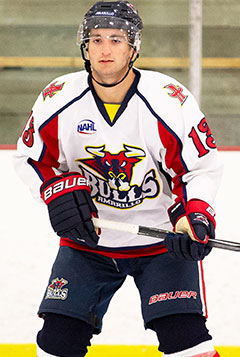 The Amarillo Bulls, proud members of the North American Hockey League (NAHL), have announced that forward
Brett Abdelnour
has committed to Army in Atlantic Hockey for the 2019-20 season.
"It's a dream come true," Abdelnour said. "I never thought about myself going to Army until about three weeks ago when I got the offer and started to put everything together. I was nervous about this decision, but after going for a visit and seeing the campus, I could really see myself as a student and a cadet there. Growing up you always dream of playing college hockey especially at the NCAA Division I level, and you want to use hockey to get you into a really-good school. It's a win-win situation to go into one of the most prestigious schools in the country and to play Division I."
Abdelnour said the visit to West Point blew him away, and he first thought he was in Europe. "The buildings are old on the outside but renovated and new on the inside," he said. "The facilities like the gym, locker room and arena are second to none."
The 5'9/171 lbs. native of Macomb, Michigan is the eighth member of this year's Bulls roster to make his NCAA College plans. He will join Justin Evenson at West Point. In the first two years of the Bulls franchise, a total of five players committed including Joe Kozlak, Luke Jenkins, Garrett Peterson, Clint Carlisle and Kyle Plageman.
In 96 career games with the Bulls, Abdelnour has 20 goals and 38 assists for 58 points He has eight career power play goals and four game winners. Last month, Abdelnour was named one of the team's Assistant Captains.
"We are very proud of Brett and excited for him and his family," said Bulls Head Coach Rocky Russo. "The opportunity to get an education and continue his playing career at West Point is an honor and a privilege. Personally, watching Brett develop over the last three years has been awesome. His work ethic and commitment to his game really drove him towards this opportunity. Brett will be a tremendous addition to Coach Reilly's team and to West Point."
Abdelnour said if he didn't play for the Amarillo Bulls, he wouldn't have the commitment he has now. "Being able to skate and work out every day along with having George get video ready and Rocky teaching us the little things and discipline, made me grow as a complete player and as a person," he said.
Abdelnour said there have been a lot of people that have helped him along way get to this decision. "My parents and my siblings have been through it all with me," he said. "I want to thank my teammates and my advisor Mike Pilon and of course Rocky (Russo), George (Lewis) and Rick (Matchett)."
Brett Abdelnour joins Jason Grande (Bentley), Justin Evenson (Army-West Point), Nick Anderson (Colgate), Alex Peterson (Holy Cross), Brenden Datema (Michigan Tech), and Jason Brancheau (Ferris State) as Bulls player on the 2019-20 roster to make their NCAA College Commitments.