Knights edge Titans on Wednesday, 2-1
February 7, 2019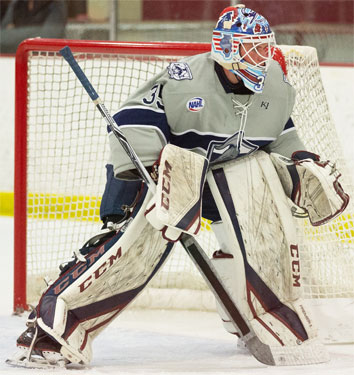 Wilkes-Barre/Scranton 2 @ New Jersey 1 - A pair of third period goals helped the Knights skate away from New Jersey with a 2-1 win over the Titans in the lone NAHL game on Wednesday.
The first period saw the Knights outshoot New Jersey, 15-10, but the Titans had two key takeaways that nearly led to goals, had it not been for the phenomenal play of goalie Zach Stejskal. The Knights stopper made a point blank save on Gavin Gulash, followed by an odd-man rush stop minutes later.
It wasn't until the second period that a team found the back of the net, with New Jersey's Kyler Head scoring on the power play on a one-timer from the right circle.
The Knights responded quickly entering the third period. Gabe Temple slid home his 13th goal of the season 1:19 in. With pressure in the zone, Jeffrey Bertrand shot a puck on net that trickled through Titans goalie Brandon Perrone, but hit the post. The puck didn't bounce away from the iron, leaving it in the paint for Temple to tuck home and tie things up. Jacob Badal got an assist, along with Bertrand.
Wilkes-Barre/Scranton would take their one and only needed lead of the day over five minutes later on the power play. Jordan Strand fired a point shot through traffic to beat Perrone high on the glove side for his second goal of the season. In 56 junior hockey games at both the NAHL and NAPHL level, the blue liner has never scored a game-winning goal until this contest.
Knights Goaltender Zach Stejskal finished with 29 saves, with his counterpart, Perrone, making 39 stops.