Amarillo goalie Grande makes NCAA DI commitment
February 1, 2019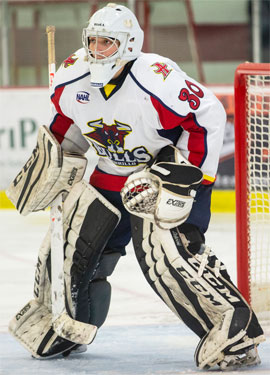 The Amarillo Bulls, proud members of the North American Hockey League, have announced that goaltender
Jason Grande
has committed to play NCAA Division I hockey for Bentley University in Atlantic Hockey for the 2019-2020 season.
Grande has been a workhorse in nearly two seasons with the Amarillo Bulls, playing in over 60 games, and now he will take that same work ethic to the next level. "Playing in a lot of games last year was good for my career to experience everything," Grande said. "We were not the best, but it was a good development season for myself and the players that were here. This year has changed a lot, and I may not be playing as much, but that's good for me to stay fresh and be sharp every game."
The tall goaltender is the fourth member of the Amarillo Bulls to play for the school joining Tyler Deresky, Matt Siekhaus and Brendan Walkom.
Grande said he is thrilled with his decision to be attending Bentley. "It's a great school and opportunity to continue my education and then play hockey at a higher level," he said. "I'm excited to be going to Bentley, and I hope to be productive as soon as I get there. It's one of the top 10 business schools in the country so from an academic standpoint, I couldn't go wrong choosing them. They also just build a new hockey facility that looks amazing, and I felt it was a great fit for me."
The West Chester, Pennsylvania, native has appeared in 67 games with the Bulls, including 45 last year and has a mark of 33-23-0-7 with a 2.50 GAA and a 9.16 save percentage. Grande has 11 career shutouts and has made more than 1,700 saves.
"We are very proud of Jason for committing to continue his education and athletic career at Bentley University," said Bulls Head Coach Rocky Russo. "Watching Jason develop has been a pleasure. He is a great goalie and teammate, but an even better person. Jason has been a huge part of our two season turnaround in Amarillo both on and off the ice. I have no doubt that he will make a tremendous impact both on the ice and in the classroom at Bentley."
Grande said coming to the Texas Panhandle a season and a half ago was the best decision he could have made. "I think I have developed tremendously with Rocky (Russo) being as Head Coach," he said. "I think I can improve even more through the rest of this season, and I look forward to doing that."
Grande said he owes a lot of people credit for getting him to this point. "I would like to thank my family and friends as well as the coaches Rocky and George," he said. "I would also like to thank the Amarillo fans for supporting us and our dreams to continue to play hockey."
Jason Grande, becomes the 6th Bulls player on the 2019-20 roster to make his NCAA College Commitment joining fellow players Justin Evenson (Army-West Point), Nick Anderson (Colgate), Alex Peterson (Holy Cross), Brenden Datema (Michigan Tech), and Jason Brancheau (Ferris State).