Brahmas, Knights win on Thursday
February 1, 2019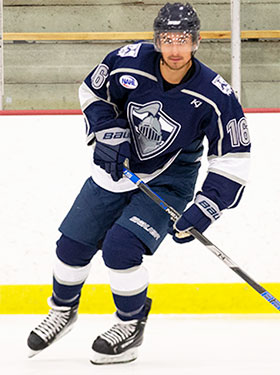 Lone Star 3 @ Shreveport 1
– Thanks to a 3-1 win on Thursday night, the Lone Star Brahmas moved into a tie for 2nd place in the South Division standings with the Mudbugs. Lone Star used the first power play of the night to jump out to a lead in the opening frame at 13:54 as Tim Henriksson fired home a shot from the point. at the far point. Jake Suede made it a two goal lead jumping on the rebound of a Matt Guerra shot from distance. In the 2nd period, the Brahmas made it 3-0 as Blake Evennou was alone on the backdoor for a one-timer into the twine. The Mudbugs got on the board with their lone goal early in the 3rd period as Conor Witherspoon fired a shot on net from the bottom of the near circle that Seth Eisele knocked down, but the rebound went right back to Witherspoon for a put back that Eisele was not able to corral. Eisele made 36 saves in the win, while Leo Chuard made 19 saves in the loss.
Boxscore
Wilkes-Barre/Scranton 4 @ Northeast 3 (OT)
- Sacha Guillemain scored his eighth goal of the season in overtime to lift Wilkes-Barre/Scranton to a 4-3 win over the Northeast Generals at historic Ingalls Rink at Yale Univeristy on Thursday night. The Knights opened the scoring early in the 1st period as Evan Orr rushed through the slot to put home his third of the year 5:30 in on Northeast net minder David Fessenden. Just 26 seconds later, John Kaljian scored his first as a Knight after being acquired from Brookings a few weeks back to give the grey and blue a 2-0 lead. Before the period expired, Northeast's Connor Marshall got his club back within one, but Jake Fuss stayed red hot for the Knights with a goal in the second to re-establish a two goal lead. The goal was Fuss' seventh of the season and increases his goal streak to four games, having five in that span. A rally from the Generals came in the third to force overtime, as Aurel Naus scored to make it 3-2 under five minutes into period three, but it would be Svet Kuchynski on the power play to make it 3-3 at the 13:42 mark. After both teams earned a point, the final would be handed out in overtime. Wilkes-Barre/Scranton won the opening draw, but lost possession giving the Generals a three-on-one. Zach Stejskal made a spectacular save and the loose puck rolled toward the Knights who rushed the other way. Sacha Guillemain controlled and hovered around the high area of the zone before cutting to the left wing and rifling a shot over Fessenden's shoulder for the game winner. Stejskal made 33 saves in the win, while Fessenden made 33 saves in the loss.
Boxscore