Bulls, Generals complete series sweeps on Sunday
January 27, 2019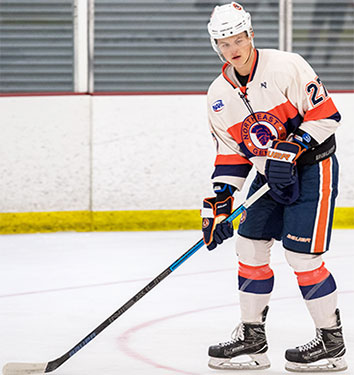 Amarillo 5 @ Corpus Christi 1
- The Amarillo Bulls completed a three-game weekend sweep over the Corpus Christi IceRays thanks to a 5-1 win on Sunday afternoon. The first-place Bulls the first team in the South Division to reach 30 wins this season and still have just one regulation road loss all season. Jake Willets, Cooper Fensterstock, Noah Carlin, Logan Jenuwine and Louis Helsen scored for Amarillo, while Kyle Moore recorded the lone goal for Corpus Christi. Willets opened the scoring with a wrist shot from the right point on the power play at 6:51 of the first period. Less than three minutes later, Moore tied the game with a far-side shot past goaltender Justin Evenson's blocker for an unassisted goal. In the second period, Fensterstock scored on an odd-man rush and Carlin went five-hole for his first career NAHL goal during 4-on-4 action as the Bulls carried a 3-1 lead into the second intermission. Jenuwine picked up his NAHL-leading 35th goal of the season 5:42 into the third period, then Helsen capped the scoring with a 4-on-3 goal at 10:26. Evenson made 27 saves in the win, while Brian George took the loss, making 21 saves.
Boxscore
Johnstown 4 @ Northeast 5 (SO)
- In a back-and-forth contest, the Northeast Generals edged out a 5-4 shootout win past the Johnstown Tomahawks on Sunday afternoon, completing a two-game home weekend sweep. Much like Saturday night's contest, Northeast lassoed the game's first goal early in the period when Connor Marshall flicked a wrist shot past Tomahawks goalie Cooper Lukenda. Johnstown tied the game approximately four minutes later as Colin Price found the twine for his eighth of the season. Less than a minute later, the Generals gained their lead back as Louis Boudon scored his 15th of the season. Johnstown managed to tie the score 2-2 with 13 seconds remaining in the first period after Carter Dwyer finished a pass from Joe Kile for his first of the season. In the 2nd period, Northeast regained their lead after Trevor Smith tapped in a loose puck in the blue paint. Johnstown rebounded again less than one minute later after Roman Kraemer made a power move, went backhand to forehand and slid the puck past Generals goalie David Fessenden to tie the game 3-3. Before the period ended, Johnstown earned its first lead of the weekend after Roman Kraemer capitalized off a Generals turnover and send the puck to Cameron Hebert, who scored his 18th of the season. The Generals tied the game early in the 3rd period at 4-4 after Boudon scored his second of the game and 16th of the season. After a scoreless overtime, Connor Trevor Marshall and Smith each scored for Northeast, while Fessenden shut the door on both Tomahawks shooters. Fessenden made 39 saves in the win, while Lukenda made 28 saves in the loss.
Boxscore