January 25, 2019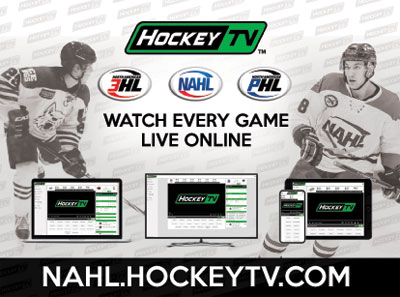 More divisional match-ups are in store during the final full weekend in January in the NAHL as the 2018-19 regular season is almost two/thirds of the way done and just over two months remain until the Robertson Cup Playoffs.
With the Top Prospects schedule, coaches, and breakdown now announced, the NAHL will announce the rosters on February 1st to see who is going to compete in the event, which will take place on February 18-19 at the New England Sports Village in Attleboro, MA.
It was another great week for NCAA Division I commitments as another five players made their plans. A total of 162 players have committed during the 2018-19 season.
The USA Hockey trade deadline is also rapidly approaching as teams have until February 6th to execute any trades and the roster freeze will be on February 10th.
In the Central Division this weekend, there is a full schedule of games, which is highlighted by the division-leading Aberdeen Wings putting their 16-game winning streak on the line against the 2nd place Austin Bruins. The battle for a playoff spot resumes in Cloquet, MN this weekend as the 4th place Minnesota Wilderness host the 5th place Bismarck Bobcats, with the Bobcats three points back. The Minot Minotauros, who have a one point lead for 3rd place in the standings, will travel to Brookings to take on the suddenly resurgent Blizzard.
In the East Division, the Northeast Generals look to stay in the 4th and final playoff spot as they try and slow down the division-leading Johnstown Tomahawks, who have won nine in a row. The Jamestown Rebels are comfortably in the 2nd place and will host the Maryland Black Bears, who are in a tie with the Generals for the 4th and final playoff spot. The final series has the 3rd place New Jersey Titans in Wilkes-Barre/Scranton to face the Knights. Both teams are on small losing skids entering the weekend.
In the Midwest Division, it's a light schedule, but one with intrigue as the 3rd place Janesville Jets look to snap a four-game slide with a pair of games in Springfield against the 4th place Jr. Blues, who have won four straight. With Fairbanks and Kenai River idle this weekend, the only other action has division-leading Minnesota in Chippewa for a lone game on Saturday night.
In the South Division, the standings couldn't be much tighter, which makes this weekend so important. The 1st place Amarillo Bulls are in Corpus Christi to face the IceRays for a pair of games, with the IceRays sitting one point out of 2nd place. 2nd place is currently shared by Shreveport and Lone Star, who will both be in action. The Mudbugs return home after a long road swing to host the Topeka Pilots and the Brahmas are in Odessa to face the Jacks.
FRI, JANUARY 25
New Jersey at Wilkes-Barre/Scranton - 3:00 PM EST
Maryland at Jamestown - 7:05 PM EST
Minot at Brookings - 7:05 PM CST
Amarillo at Corpus Christi - 7:05 PM CST
Bismarck at MN Wilderness - 7:05 PM CST
Janesville at Springfield - 7:05 PM CST
Lone Star at Odessa - 7:11 PM CST
Topeka at Shreveport - 7:11 PM CST
Austin at Aberdeen - 7:15 PM CST
SAT, JANUARY 26
Johnstown at Northeast - 7:00 PM EST
Maryland at Jamestown - 7:05 PM EST
Janesville at Springfield - 6:05 PM CST
Wilkes-Barre/Scranton at New Jersey - 7:30 PM EST
Minot at Brookings - 7:05 PM CST
Amarillo at Corpus Christi - 7:05 PM CST
MN Magicians at Chippewa - 7:10 PM CST
Lone Star at Odessa - 7:11 PM CST
Topeka at Shreveport - 7:11 PM CST
Austin at Aberdeen - 7:15 PM CST
Bismarck at MN Wilderness - 7:35 PM CST
SUN, JANUARY 27
Amarillo at Corpus Christi - 3:05 PM CST
Johnstown at Northeast - 4:30 PM EST