Fairbanks forward Sorenson makes NCAA DI commitment
January 24, 2019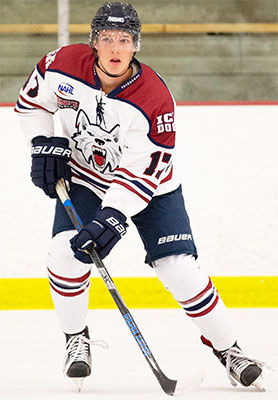 By Brad Joyal, News Miner
A year ago at this time,
Jonny Sorenson
was gearing up for his final season of baseball at St. Louis Park High School in Minnesota.
He was a three-sport athlete in high school, and a star center fielder for the Orioles. Thinking about what was coming next was nowhere near his mind.
Sorenson ultimately decided to devote his attention to hockey before joining the Fairbanks Ice Dogs at the start of the season. Now a few months into his first season of junior hockey, Sorenson has something to look forward to.
He recently announced his commitment to play NCAA Division I hockey at the University of Minnesota, which is just about 15 minutes from where he grew up.
"It's pretty cool to see how things came together in such a short period of time," Sorenson said after Tuesday's practice at the Big Dipper Ice Arena. "Obviously I'm really excited, but I also realize that the work is really just beginning now."
Sorenson has been a key contributor for Fairbanks in the NAHL this year, scoring 11 goals and assisting on 25 more in 39 games with the Ice Dogs. Despite the fact this is really his first full year of hockey, the 6-foot-1, 175-pound forward garnered the attention of coaches at Minnesota, which competes in the Big 10 Conference and has a storied tradition of being one of the most prominent programs at the college level.
"He has a lot of fast twitch muscle and he's really athletic," Ice Dogs head coach Trevor Stewart said. "It's hard to pass up an elite athlete like that. And they love his ceiling to where he can get to."
Stewart, who's a Minnesota native himself, said he was thrilled to see one of his players land with the Golden Gophers, who are led by first-year head coach Bob Motzko.
"It's something different for them, because they have a new staff in there and Jonny is kind of a player who has worked for everything he's gotten," Stewart said. "This time last year, he didn't even know if he was going to play hockey after high school.
"It was obviously the right decision for him, and he's going to a place with a good coaching staff. They're getting a great athlete and a great, great person."
Knowing all that Minnesota has accomplished — the team has appeared in the NCAA Tournament Frozen Four on 21 occasions and has raised a national championship trophy five times — Sorenson was eager to be a part of the tradition.
Motzko and his staff first reached out to him a little more than a month ago, and the discussions ramped up after Sorenson visited the Minneapolis campus during the Ice Dogs' holiday break.
"It was a good visit," Sorenson said. "They told me they really liked me and wanted me to be a part of what they're trying to build there with the new staff. After visiting, we kept communication and they kept wanting me to commit. Finally, I said, 'Why not? That's where I want to be.'"
Sorenson could leave the Ice Dogs to join the Golden Gophers at the end of this season, though he said he'll take a wait-and-see approach before making that decision.
"I'll see how it plays out," he said. "I love it up here and I've had a great time so far. This is the place to be in junior hockey."
Regardless of whether he'll return to Fairbanks next year or ship off to Minnesota, the Ice Dogs rookie is eager to get back to business now that his future is more secure.
"It's a weight off my shoulders," Sorenson said. "I could tell I was kind of pressing lately. Now I can have fun going out there and working hard, doing everything I can to help us win games."