January 23, 2019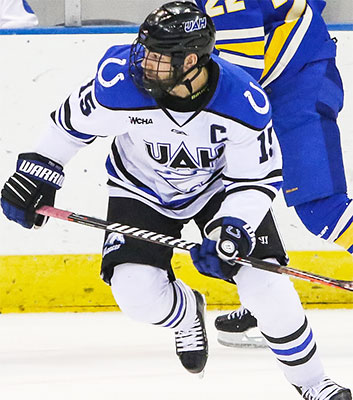 NAHL and Odessa Jackalopes alum
Connor Hellebuyck
has been achieving goals people told him were impossible his whole life. Now he's got his sights set on winning the Winnipeg Jets' first-ever Stanley Cup (
Story
).
Excerpt from story: "I expected to get drafted in the NA at least, then I didn't and that was a huge heartbreak," Hellebuyck says, shaking his head. "I had a moment, like, 'Aw, what am I gonna do it?' Then I said: 'Screw it. I'm gonna do whatever it takes. If I have to go play Tier 3 junior, I'll do it.'"
Fortunately it didn't come to that. Instead, Craig Sarner called with an invite to the Jackalopes' main camp in Texas, which the scout says had been the plan all along. "I thought I had a chance, then," Hellebuyck says. "I was very driven, because that was my only shot."
Jackalopes head coach Paul Gillis could tell almost immediately that Hellebuyck was going to be "something special," he says. "Very tall and skinny, but the thing about him was that he really looked, maybe the word is 'comfortable' in net. He was very calm and stable in there. And then as we got to know him, you would never meet a nicer kid. His work ethic was just fantastic. I think that talent was in him the whole time — he just had to get it out."
When Hellebuyck got scored on, he'd review the goal as soon as possible. As in,between periods. "Seriously," Gillis says. "He was all over it. He hated losing, and that manifested itself into extra hours on the ice, extra hours watching himself play." A forced day off would see the goalie attend practice to watch, then hit the gym. "That's the only way I knew," Hellebuyck says, "just grind all the time."
Hellebuyck carried the mediocre Jackalopes into the playoffs, earning NAHL goaltender and rookie of the year honours. "Bucky came a long way that year," Gillis says, "but I think [that talent] was in him the whole time — he just had to get it out." (Hellebuyck's nicknames include 'Bucky,' 'Buck Buck' and 'Helly.' He prefers the last, but it got out among the Jets that in college he was called Bucky, so that one made its return and then spawned Buck Buck, thanks to former Winnipeg teammate, Mark Stuart).
NCHC Goalie of the Week/NCAA #3 Star of the Week: Hunter Shepard, Minnesota-Duluth (Bismarck Bobcats)
Shepard was perfect on the weekend, as he blanked Miami both nights to backstop Minnesota Duluth to a road sweep. His two shutouts give him four on the season, which ties for second nationally, and 12 for his career, which is already a school record. In Friday's 4-0 whitewash, he totaled 23 saves, including 11 in the first period, while 11 saves also came short-handed as he helped kill all five Miami power plays. Shepard earned Third Star of the Game for his efforts Friday. The next night in a 3-0 blanking, he compiled 17 saves, including five short-handed to kill all four MU man advantages, while garnering First Star of the Game honors. Shepard totaled 40 saves in the two wins and killed off all nine Miami power plays, while his 1.000 save percentage on the weekend upped his season save percentage to .923. He also lowered his goals-against average from 1.83 to 1.74 on the season, which ranks fourth nationally and tops in the NCHC.
Hockey East Defensive Player of the Week: Mike Robinson, New Hampshire (Springfield Jr. Blues)
Robinson posted his second shutout of the year in a 5-0 win at Merrimack on Friday night, making 25 saves. On the year, he has .920 save percentage and 2.26 goals against average. He's helped the Wildcats to a 6-1-1 mark in their last eight games.
WCHA Forward of the Week: Hans Gorowsky, Alabama Huntsville (Fairbanks Ice Dogs)
Gorowsky led the WCHA and tied for first in NCAA Division I this weekend with a total of four goals, while rating second in the league in points with five. The point total tied for second in the nation and his two power play goals tied for first in the WCHA. The senior ranked second in the league with 26 faceoff wins, owning a .667 faceoff win percentage over the Chargers' two games with Alaska Anchorage. The Lino Lake, Minn., native had a weekend-high three points on two goals and one assist in the opener, which was his first career three-point performance. He added two goals in the series finale on Saturday as UAH swept the two-game set from the visiting Seawolves.
WCHA Goaltender of the Week: Zach Driscoll, Bemidji State (Austin Bruins)
Driscoll backstopped the Beavers to their second WCHA series sweep of the 2018-19 season as BSU took a pair of home games from WCHA rival Michigan Tech. The sophomore piled up a season-high 33 saves in a 4-3 overtime victory to open the series with the Huskies on Friday at the Hockey Day Minnesota outdoor rink. Saturday, the Apple Valley, Minn., native recorded his second shutout of the season stopping 18 shots in a 3-0 victory. Driscoll finished the weekend with 51 saves, three goals allowed, a .944 save percentage and a 1.46 goals against average.
SPHL Player of the Week: Alexander Taulien, Macon Mayhem (Traverse City/Soo)
The SPHL announced Alexander Taulien of the Macon Mayhem is the Warrior Player of the Week for January 14-20. Taulien scored five goals, including two game-winners, as the Mayhem swept a pair of games from Evansville. On Friday, the Crystal Lake, IL native scored a pair of third period goals to break open a close game as the Mayhem defeated the Thunderbolts 5-3. Taulien did one better the following night as Macon doubled up Evansville 6-3. After kicking off the scoring in the first period, Taulien scored twice in a 98-second span in the second period to record his first professional hat trick.