NAHL maintains presence on NHL Central Scouting Mid-Term Rankings
January 23, 2019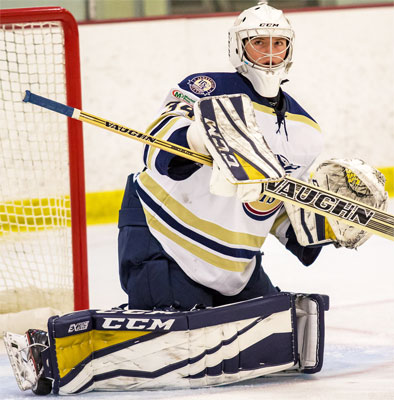 The North American Hockey League (NAHL) is pleased to announce that several current and former players were recognized on NHL Central Scouting's 2019 Mid-Term Rankings, which were released recently on nhl.com.
The NHL Central Scouting Midterm Rankings are for players eligible for the 2019 NHL Draft. The Midterm Rankings include players from all leagues and levels across North America and are listed with a numerical ranking based on NHL Central Scouting evaluations.
The list includes five players that are playing in the NAHL during the 2018-19 season, and three more players that played in the NAHL last season (2017-18).
A total of 55 NHL scouts, including those from NHL Central Scouting, were on hand at the NAHL back in September scouting players at the NAHL Showcase and have continued that scouting during the regular season at NAHL arenas.
The next big event for NHL scouts to see the NAHL's talent on display is the 2019 NAHL Top Prospects Tournament, which will be held in Attleboro, Massachusetts, on February 18-19, 2019.
The NAHL Top Prospects Tournament is one of the most highly-scouted events of its kind. Last season, over 230 scouts attended the event, which featured almost every NHL team and NCAA Division I school. The event continues to provide the hundreds of NHL and NCAA scouts in attendance with a look at the best uncommitted players the NAHL has to offer, as well as, some potential NHL Draft picks.
The record-breaking 331 NCAA commitments this past season and 1,345 NCAA commitments and 21 NHL Draft picks in the last five years have coincided with an increased presence on the annual NHL Central Scouting players to watch list. To date, the NAHL currently has 160 NCAA commitments during the 2018-19 season.
Current NAHL ranked players on the list (alphabetical)
NAHL players now in another league
Matt Brown, F, Des Moines Bucs/USHL (Odessa Jackalopes, 2017-18)
Isaiah Saville, G, Tri-City Storm/USHL (Minnesota Magicians, 2017-18)
Mads Sogaard, G, Medicine Hat Tigers/WHL (Austin Bruins, 2017-18)
NHL Central Scouting will release its final rankings of 2019 draft-eligibles in April.
The Vancouver Canucks will host the 2019 NHL Draft at Rogers Arena in Vancouver, British Columbia. Next year's Draft will be held over two days on June 21-22, 2019.
A total of 21 players have been selected right after playing in the NAHL in the past five NHL Drafts.