Sunday Wrap-Up: Black Bears complete sweep
January 21, 2019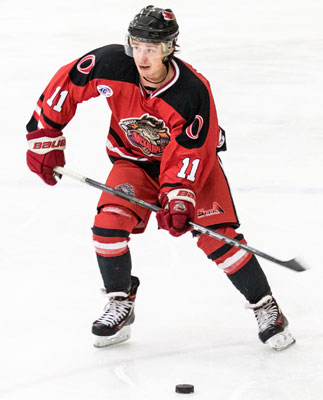 Northeast 1 @ Maryland 3
– The Maryland Black Bears gained some valuable points on the weekend, completing a sweep of the Northeast Generals with a 3-1 win on Sunday. Northeast struck first, as Alex Cohen followed up a blocked point shot to the lower right circle and fired a shot low left side past Maryland goalie Anthony Del Tufo to make it 1-0 in the first period. But the Black Bears responded with Bobby Batten's first goal as a member of the Black Bears to make it 1-1.There was no scoring until the third period, where Maryland took a lead that they would not relinquish. Black Bears' forward Patrick Choi forced a turnover along the boards and the puck was picked up by Luke Mountain. Mountain went in on a breakaway and slid the puck under the pad of a shuffling Marko Sturma to make it 2-1. Maryland forward Connor Pooley scored on the empty net in the final minute, sealing a 3-1 Maryland win. Anthony Del Tufo won his second consecutive game with a 29 save effort, while Sturma made 32 saves in the loss. With the sweep, Maryland jumps into a tie with Northeast for fourth in the East Division.
Boxscore
Odessa 3 @ Topeka 2 (SO)
- The Odessa Jackalopes turned the tables on the Topeka Pilots as the Jacks emerged victorious 3-2 in the shootout to close out their three-game series at the Kansas Expocenter. The Pilots got on the board first after a long shot from Joel Brandinger that was partially saved by Jacks goaltender Alex Camarre but the puck skipped up over his shoulder and into the back of the net to make it 1-0 Topeka. In the second Zach Heintz broke out for two goals to put the Jackalopes ahead. In the third period, the the Pilots were able to tie the game off a goal-mouth scramble while on the power play as Valdemar Ahlberg scored his 11th goal of the season. In the shootout the Jackalopes' Michael Sacco scored for Odessa while Camarre was perfect and led the Jackalopes to secure three points on the weekend. Camarre made 32 saves in the win, while McLean Dorr made 30 saves in the loss.
Boxscore