USA Hockey Exclusive: If you're good enough, the scouts will find you
January 20, 2019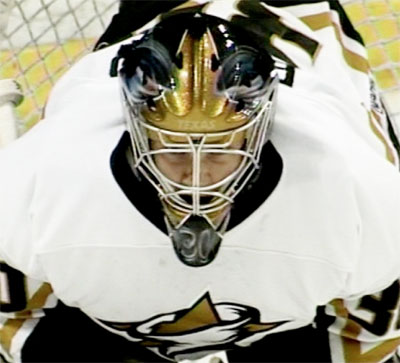 By Jessi Pierce, usahockey.com
Ben Bishop has been between the pipes for some pretty big games, and earned some equally big honors to go with it.
The 32-year-old goalie, currently plying his trade with the Dallas Stars, has played in 342 NHL games, 36 Stanley Cup Playoff games—including a Stanley Cup Final run with the Tampa Bay Lightning in 2015—and has been a top three Vezina Trophy finalist not once, but twice (2013-14 and 2015-16).
And while Bishop admits that those crowning career achievements are definitely moments to hang his helmet on, he describes winning the North American Hockey League (NAHL) Robertson Cup Championship 13 years prior in 2004-05 as one of his most memorable hockey accolades.
"When you win it all, it's a pretty great feeling," Bishop recalls of his time with the Texas Tornado. "We had a great team and a great year. It was a lot of fun and was a season that really pushed my game to that next level."
A Denver, Colo. native, Bishop actually began developing his hockey skills in St. Louis. As prep school neared its end, he started to look at options for the next step in his hockey education.
Junior hockey appealed to the young netminder who was looking for a chance to play against top competition and help physically and mentally mature him. Bishop decided to tryout for the United States Hockey League.
"I was cut," Bishop said. "So when I couldn't make a (USHL) team, I turned to the NAHL because at that time, the NAHL and USHL were more similar. The USHL hadn't really taken off yet, so yeah, I was happy to have made it in the NAHL."
The experience was more valuable than what transpired on the ice.
"It was a lot of fun and I think it helped be mature and get ready before going to in to college, just being on my own and playing with older guys," Bishop added. "It was a great experience, one of my favorite years of my life, so I couldn't ask for more from an organization or the city—and winning the whole thing is something I will never forget."
Bishop appeared in 45 games for the Tornado, posting a league-best record of 35-8 including five shutouts. He compiled a 1.93 goals-against average, second-best in the league, and helped Texas claim their second consecutive NAHL championship in 2005.
That was also the year colleges started calling on the 6-foot-7 goaltender. He entertained offers from numerous Division I schools but ultimately decided on the University of Maine where he spent three seasons, backstopping the Bears to back-to-back Frozen Four appearances (2007, 2008).
2005 was also the year Bishop was drafted into the NHL, selected by the St. Louis Blues in the third round (85th overall).
Since then, Bishop has had stints in the American Hockey League and with five different NHL teams (Blues, Ottawa Senators, Lightning, Los Angeles Kings and now Dallas).
Not bad for a kid once cut from the USHL.
"I would just say, it doesn't matter where you go—if you're good enough, the scouts will find you," Bishop explained. I wouldn't put too much thought on where you end up playing because all the players who end up going to the next level, they get found. If you're good you'll go. Just go there and embrace it and let it go from there."