Amarillo goalie Evenson makes NCAA DI commitment
January 15, 2019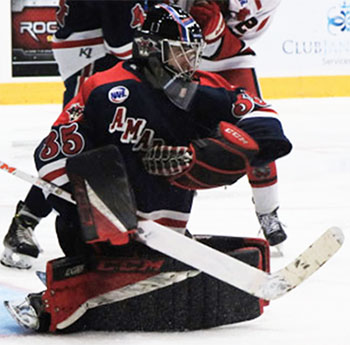 The Amarillo Bulls, proud members of the North American Hockey League (NAHL), announced that goaltender
Justin Evenson
has committed to play NCAA Division I hockey for Army in Atlantic Hockey for the 2019-20 season.
Evenson is the 101st Bulls player to announce his NCAA college plans and 7th Bulls player to play at Army joining Joe Kozlak, Luke Jenkins, Clint Carlisle, Garrett Peterson, Kyle Plageman and Brendan McGuire.
"It's very surreal, to be on a path with other guys that have been in my shoes and have had success at this level, as well as at Army and really shows me that I can do the same," Evenson said. "We can all share that special bond together."
Evenson, a native of Minneapolis, Minnesota, was selected by the Bulls in the past summer's 2018 NAHL Draft. In nine games with the Bulls, Evenson has a mark of 7-0-1-0 with a 2.50 Goals Against Average and a .914 save percentage. Evenson said it means the world to be able to get his College Commitment and to attend a prestigious school like West Point.
"I never really imagined myself going there, but the more likely a possibility it became, the more I saw myself being able to go there and excel in hockey as well as in my life beyond hockey, too," Evenson said. "For me, the process and journey has been long and unsure, but totally worth it. If I could do it all again, I wouldn't change a thing. There has been so many ups and downs in my hockey career that I think being able to commit to school who really wants me and showed interest from the start is just icing on the cake."
Bulls Head Coach Rocky Russo said the organization is proud not only of his commitment to play college hockey but also to his country. "Justin is an excellent goaltender, a first-class teammate and a pleasure to coach," said Russo. "He is joining a very exclusive group of Amarillo Bulls to head to West Point. Each of the prior young men left a tremendous legacy with our program and Justin will do the same. Coach Brian Reilly and his staff will be very pleased with the impact Justin will make on the team and the Academy."
Evenson made an impact on the team immediately by winning his debut in a shootout at home. He said joining the Bulls organization was the best thing that happened to him. "I have so many things to be thankful for starting with an amazing coaching staff and front office who really believed in me and took a chance," he said. "Rocky has given me so much confidence to be able to play my game and be successful at it. The players and my teammates have been some of the best in my life. They are my second family, and my brothers. I can't thank all of them and the fans enough for the continue support in my career."
For Evenson and many players the list of people to thank for helping to get to the next level always begins with family. "My amazing parents, Scott and Karen, who have literally done everything and more for me in my hockey career," he said. "My brothers, Alex and Ryan, who continuously shoot on me over breaks to help me get better at my game and have helped me grow so much as a player and a person. My billets, D'Edra and Brandon (Jefferson), as well as all my other billets I have had in my junior career. I have been so fortunate in that regard. All the players who force me to want to get better and make every save I can and who effortlessly keep me grounded as well as excited to come to the rink everyday."
Justin Evenson becomes the 6th Bulls player on the 2019-2020 roster to make his NCAA College Commitment, joining fellow players Nick Anderson (Colgate), Alex Peterson (Holy Cross), Brenden Datema (Michigan Tech), Jason Brancheau (Ferris State) and Logan Jenuwine (Western Michigan).