Amarillo defenseman Anderson makes NCAA DI commitment
January 14, 2019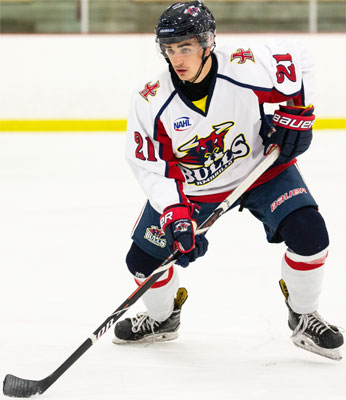 The Amarillo Bulls, proud members of the North American Hockey League (NAHL), have announced that defenseman
Nick Anderson
has committed to play NCAA Division I hockey for Colgate University in the ECAC for the 2020-21 season.
"This past summer was a huge one for myself," Anderson said. "I got a lot stronger and had a lot more confidence coming into the season. This year has been a great year for our team and with team success comes individual success. I'm just grateful to be a part of such an amazing organization, and to be able to play with such a great group of guys."
"To have the opportunity to go to Colgate means the world to me and my family and I couldn't be happier. The academic side of things played a big role in this decision, and I'm very honored to have the chance to play hockey at such a prestigious school."
Anderson arrived in Amarillo almost a year ago through a trade with the Minnesota Wilderness. In 88 NAHL games, the native of Wayzata, Minnesota, has eight goals and 51 assists for 59 points. Anderson has had 31 points alone this year in a Bulls uniform and has been a mainstay on the defense corps.
"Playing for the Bulls has been the best thing that has happened for me in my hockey career," Anderson said. "Coach Russo has helped me develop into the player I am today, and I'm very thankful for him and the organization."
Bulls Head Coach Rocky Russo said Anderson's work ethic over the summer has been a big part of his success. "We are very proud of Nick for his commitment to Colgate University," Russo said. "His work ethic over the summer and commitment to his development have been a major factor in his success. Nick has been able to lead by example for us on and off of the ice this season, playing in all situations and been a big reason for our success to this point.
"We are excited for the rest of the season and the opportunity to compete for a national championship. We look forward to Nick returning next year to take on an even larger leadership role before he goes on to Colgate. Coach Don Vaughan and his staff have a great player, and an even better person joining their program in 2020."
With Anderson's deal, the Bulls reached a milestone of 100 NCAA College Commitments in nine short years. "It means a lot to be the 100th Amarillo Bulls' player to have the opportunity to play college hockey," he said. "It just shows the success that Amarillo has had over the years and how much players develop here."
Anderson said he owes a lot of people credit with success and the announcement. "Coach Russo and Coach Lewis played a big roll in making this happen," he said. "They put in a lot of time and effort into making not only my commitment happen, but everyone else on our team commitments, and I can't thank them enough. Most importantly I want to thank my family. My mom and dad have always been there for me and pushed me to become better every day and without them none of this would have been possible."
Nick Anderson becomes the 5th Bulls player on the 2019-2020 roster to make his NCAA College Commitment, joining fellow players Alex Peterson (Holy Cross), Brenden Datema (Michigan Tech), Jason Brancheau (Ferris State) and Logan Jenuwine (Western Michigan).