Magicians, Generals complete sweeps on Sunday
January 14, 2019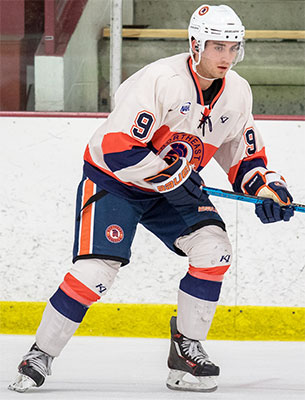 Janesville 4 @ MN Magicians 5 (SO)
– The Magicians saw a couple different leads disappear, only to win the game in a shootout and complete a weekend home sweep of the Jets with a 5-4 win on Sunday. The Magicians had two different two-goal leads after jumping out 2-0 on goals from Chris Konin and John Keranen. After Jake Hale scored for the Jets, the Magicians went back up by two with a goal from Jake Hale. The Jets then stormed back to take a 4-3 lead with three straight goals from Erik Palmqvist, Carter Hottmann, and Nicholas Nardella. The Magicians tied the game late with a goal from Valentino Passarelli to send the game to extra time where Jake Seitz scored the only goal in the shootout. Ethan Haider picked up the win in goal for the Magicians, while Cole Brady took the loss.
Boxscore
New Jersey 2 @ Northeast 4
- The Generals moved into sole possession of the 4th and final playoff spot in the East Division thanks to a 4-2 win on Sunday, which completed a weekend sweep of the Titans. Generals goalie David Fessenden made 33 saves in the win. The Generals got off to a hot start, scoring three goals in the 1st period to take a 3-0 lead and never looked back. Alex Cohen, Brady Gaudette, and Connor Marshall all scored to put the home side ahead. The Titans tried to make a game of it as they cut the lead down to 3-2 thanks to a 2nd period goal from Mitch Machlitt, which was his first in a Titans uniform, and Kyle Jeffers in the 3rd period, but an empty-net goal from Northeast's Hunter Alden secured the win. Titans goalie Brandon Perrone made 42 saves in the losing effort.
Boxscore